Thanks to everyone who attended Friday's event!
We had some really interesting advice and information stalls – thanks to everyone who came along.
A big 'Thank You!' to Tea Hive and Barbakan Deli who donated a divine victoria sponge and delicious fresh baked almond rings for everyone to share 🙂
Thanks also to Unicorn for their offer of support.
A fab event with lots of information sharing, first aid training and great food and entertainment!
Thanks to Dale from Chorlton Library and Julie from Greater Manchester Fire & Rescue Service for making this partnership event possible.
Also thanks to Jenny Slee for sharing vital information about the locations of defibrillators and local businesses who have been trained to use them.
 AFWR: Love Your Community: What's happening at the library event on Friday?
• Heartstart training from Manchester Fire and Rescue Service
---
• Community paramedic for Chorlton representing North West Ambulance Service
---
• Manchester Diabetes Support Network
  –
the Network runs monthly support groups in Manchester: come and visit Mike at the event to find out more.
---
• Songs from the Heart: Musical entertainment from Dave Taylor's Hit Parade
---
---
• University of Manchester representing ProFouND: the Prevention of Falls Network for Dissemination, an EC funded project aimed at reducing falls through active healthy ageing.
---
• 'Let's be Clear – Get it Checked' campaign – a Macmillan Community awareness project which aims to increase awareness of the signs and symptoms of breast, bowel and lung cancer across the three areas of Greater Manchester.
---
• 'Have a heart' – read more below from the Chorlton Traders website:
"Our members have been volunteering for CPR and First Aid training in support of the new defibrillators (which can help re-start a heart) purchased for Chorlton by Jenny Slee* (from Chorlton Civic Society). They're now in Epicerie Ludo on Beech Road; Co-operative Food on Wilbraham Road and soon – we hope – in the Co-ops on Barlow Moor Road (near High and Hardy Lanes). There's a unit at Wilbraham St Ninian's too, under the care of Chorlton Good Neighbours.
If you're Chorlton-based and would like to volunteer, contact us."
*Jenny will be coming along to the Chorlton library event on Friday
---
After the event – why not join Dale and the team for the Grand Day Out computer class?
This weekly over 55's computer class in the library is aimed at beginners and improvers and is held every Friday from 2-4pm.
Speak to Dale Gilligan for more information
---
Also featuring:
15 minute film showing of  '
Researching Age-Friendly Cities' feauring local residents who have trained as co-researchers in Whalley Range/Chorlton/Chorlton Park…
Stalls featuring a wide variety of activities for older residents, local community projects, health and nutrition information… the Age-friendly Business Charter…and probably lots more!
If anyone would like to come along to host a stall/share information, please complete the linked stall booking form and send to agefriendlywhalleyrange@gmail.com asap
Please share with your contacts.
---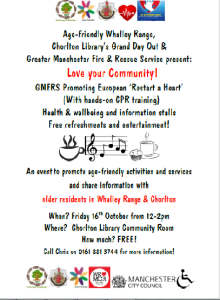 AFWR are holding a 2 hour community event with the Greater Manchester Fire and Rescue Service and Chorlton library's Grand Day Out in the  library community room from 12-2pm on Friday 16th October.
GMFRS will will promoting European Restart a Heart day* which is an annual initiative held on
16th October
aimed at teaching members of the public how to help restart the heart of someone who has suffered a cardiac arrest.
Training will be provided by the team for those who would be interested!
We will have free refreshments, a bit of entertainment – and lots of age-friendly information.
This will be a great opportunity to share what's happening for older people in the Whalley Range and Chorlton area – and to promote local health and wellbeing initiatives.
The library also holds a weekly session as part of the Grand Day Out – featuring a class for older residents to learn to use a computer or to brush up/enhance their skills. The class runs on Fridays from 2-4pm and includes refreshments – so visitors to the AFWR event will be able to stay for the computer session to learn more.
If anyone would like to come along to host a stall/share information, please complete the linked stall booking form and send to agefriendlywhalleyrange@gmail.com – or post to JNR8, 82 Cromwell Avenue, Whalley Range, M16 0BG.
Please share with your contacts.
We look forward to hearing back from you 🙂