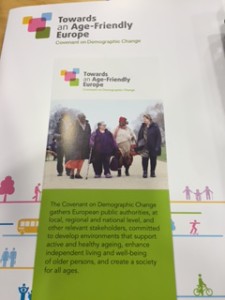 Dr Tine Buffel* is in Brussels today at the launch of the EU Covenant on Demographic Change.
(See the photo that is on display at the event – featuring our Whalley Range Co-researchers in age-friendly Alexandra Park !)
The Covenant is set to become the new EU-wide association gathering local, regional and national authorities, civil society organisations, universities, and businesses that commit to cooperate and implement evidence-based solutions to support active and healthy ageing as a comprehensive answer to Europe's demographic challenge. 77 organisations have already confirmed their willingness to join the Covenant, including 46 local and regional authorities.
http://afeinnovnet.eu/news/press-release-towards-age-friendly-europe-launch-eu-covenant-demographic-change
*Tine worked together with older residents, community organisations and Manchester City Council on the Manchester Ageing Study to produce research and identify actions and strategies to improve the 'age-friendliness' of local neighbourhoods.
An important feature is the active involvement of older people, who were trained as 'co-researchers', in all stages of the project.
Read more: https://www.whalleyrange.org/?p=1553
Download the Covenant: PR7_7Dec2015_Covenant launch_final