Mental Health Awareness Week 2016 takes place from 16-22 May, with the theme of relationships.
https://www.mentalhealth.org.uk/campaigns/mental-health-awareness-week
Visit our Whalley Range Mental Wellbeing page for links to support services and useful news and information!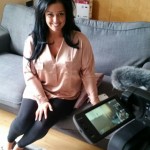 Following months of fundraising and campaigning, local film-maker Katherine Whittam is speaking out about the discrimination people with mental health issues experience every day, especially younger people, with the launch of her new film, "My Escape."
Katherine's 40 minute feature will be launched on Tuesday 17 May at The Printworks Odeon Cinema during Mental Health Awareness Week 2016.
Katherine, an event manager, aged 27 from Urmston, said, "I started this project was because of my own struggles with depression, which inspired me to help others. So many people still do not recognise the serious impact mental health issues have on our lives. The film is a way to support, speak out and educate. For this reason, I believe mental health education should be compulsory in our schools."
The film is also raising awareness and vital funds for two mental health organisations which are very close to Katherine's heart; Manchester Mind, a self-financed local charity which supports thousands of young people and adults every year, and Young Minds, which provides information and advice for young people, parents and educators across the UK.
Joanna Huddart at Manchester Mind added, "We're so proud to support Katherine, who's bravely speaking out about her own experiences and the stigma of mental health in our society. We invite everyone during Mental Health Awareness Week to join us and see this film."
My Escape Film Premiere, Tues 17 May: 7.30-9pm
Printworks Odeon Cinema, M4 2BS 
Challenging the stigma of mental health issues: a unique screening by Katherine Whittam
PLUS information stalls, speakers, poetry and more…
Tickets: www.skiddle.com/e/12713645 (£5.00 charity donation on door)