Age Friendly Whalley Range & Chorlton has been organising a series of free get-togethers over recent months, for local people aged 50 and over.
 Each event includes a free lunch, with a workshop or talk on a topic of interest, plus information about local age-friendly services and activities. 
Some of you will have attended our first event at Chorlton Library – and we'd love you to come along to more.
Watch this space for news about our upcoming events.
---

---
Chorlton Good Neighbours News
Chorlton Good Neighbours
Wilbraham St Ninians Church
Egerton Road South
Chorlton-cum-Hardy
Manchester M21 0XJ
Tel: 0161 881 2925
---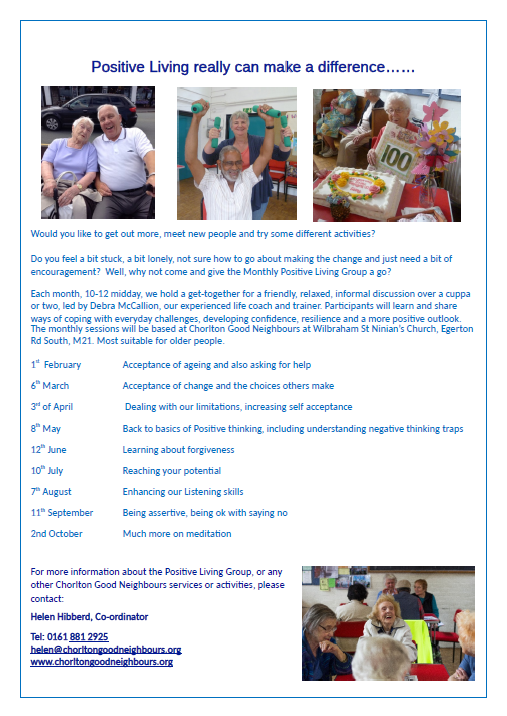 ---
What's On Where Guides
One of the biggest issues affecting the well-being of older people today is social isolation. Family may have moved away and friends are no longer around so some seniors can go many days without interacting with another person. The irony is that there are a lot of groups and organisations running all sorts of brilliant activities to help and encourage older people to make new friends and stay active. The problem is that it's often hard for these groups to get the word out.
That's where we come in with our new What's on Where Guides. We've spent the last few months collecting the details of over 200 groups and activities being run for older people in our community. From reading groups to lunch clubs, from knitting circles to gentle exercise classes and almost everything in between!
In fact there were so many great, potential entries that we've produced two separate version of the WOW Guide…
One for SOUTH MANCHESTER. This covers the Chorlton, Didsbury, Burnage, Withington area.
One for NORTH TRAFFORD. This covers the Davyhulme, Flixton, Stretford, Urmston area
The printed versions have been amazingly well received so we thought we'd make them available on-line too. If you'd like to download an electronic version just click on the link below. If you'd like your own full size paper version just give us a call on 0161 884 0562. We'll be happy to send one out to you completely free of charge.
WOW_Guide_South_Manchester.pdf
WOW_Guide_-_North_Trafford.pdf
What's On guide from Southway Housing
http://www.southwayhousing.co.uk/getattachment/Your-Neighbourhood/Age-friendly-Neighbourhoods/Age-Friendly-What-s-On-Guide-(1).pdf.aspx
---
Age-friendly Whalley Range & Chorlton
Whalley Range Community Forum
JNR8 Youth and Community Centre
82 Cromwell Avenue
Whalley Range
M16 0BG
0161 881 3744
Age-friendly Report: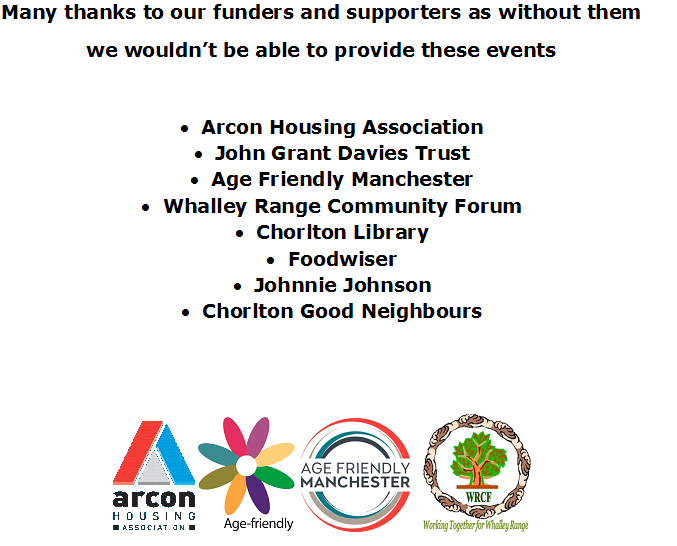 ---
Click on the link to view current age-friendly events and regular groups meeting across the city.
---