---
What's on at MICRA:
13:00 – 14:30 22 November 2017
The concept of frailty provides access to key health and social care services. While health care pro..
13:00 – 16:00 19 December 2017
Seminar 2pm – 4 pm, free networking lunch from 1 pm You are invited to an interactive seminar about..
---
Members of Age-friendly Whalley Range and Chorlton were happy to welcome a group of delegates from the Standing Committee for Health and Social Welfare from Oslo City Council to our community centre recently.
We received a message from the group upon their return to Oslo:
Good morning 🙂
On behalf of The Standing Committee on Health and Social Welfare in Oslo I want to thank you a lot for hosting us last Monday.
You have a very inspiring place, attitude and experiences and the group visiting you expressed that in plenum.
We have arrived safely in Oslo after interesting and great days in Manchester and Leeds.
Good luck with your future work.
Yours sincerely
Hans–Olav Toft
Secretary of The Standing Committee on Health and Social Welfare
(Thanks to Russell and Dave for letting us use the the church as it was enrolment day in the JNR8 hall for our ESOL learners!)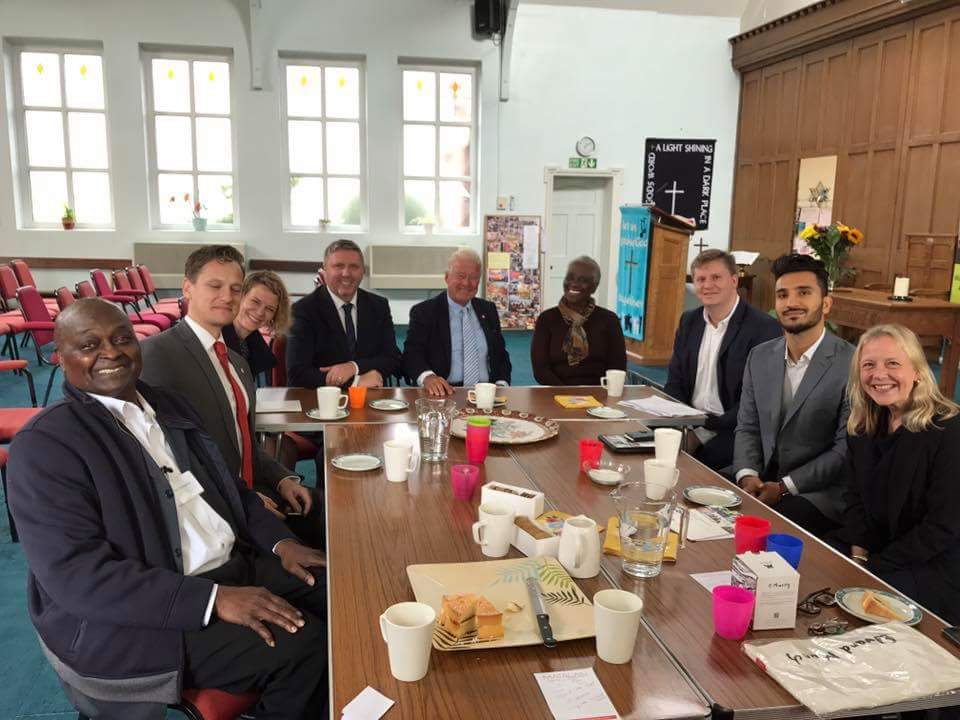 ---
Manchester Cares is a brand new community network of young professionals and older neighbours hanging out and helping one another in our rapidly changing city.
We do this because our home town of Manchester is a wonderful place, with innovation and influence, history and heart at its core. There's always so much going on, from new music to new businesses to new people arriving all the time.
But the city we love is now growing and changing at double speed, and that leaves some people feeling anonymous, isolated and left behind.
For our older neighbours in particular, many of whom have spent a lifetime in their home neighbourhoods, the rush and pace of the city can often now feel too much. Getting around can be difficult, and trends including globalisation, gentrification, migration and digitisation are transforming communities faster than ever before.
The multiplying effect of those pressures is that many older people have deep roots – from Ancoats to Ardwick, Longsight to Levenshulme – but few connections. Meanwhile, young professionals – often graduates from across the country and around the world – can have hundreds of connectionsin the social media age, but often no roots in their communities.
The separation of those parallel worlds wastes human potential, entrenches loneliness and isolation, perpetuates social division and is ultimately corrosive for our society.
Manchester Cares seeks to address this modern blight of disconnection by harnessing the people and places around us for the benefit of all.
Our objectives are to:
Reduce isolation and loneliness amongst older people and young professionals alike
Improve the connection, confidence, skills, resilience and power of all participants so neighbours can feel part of our changing city rather than left behind by it
Bring people together to reduce the gaps across social, generational, digital, cultural and attitudinal divides.
Find out more: https://manchestercares.org.uk/about-us
---
MICRA Seminar: Urban Regeneration and the 'Loss' of Community: a study of older people's experiences of urban change
We are holding our first Autumn/Winter 2017 MICRA seminar on Tuesday 24th October at 2pm at GMCVO conference hall.
During this session, we will be joined by Camilla Lewis who will be speaking about her research. She has investigated how older people's thoughts on community and belonging have changed because of their experiences of urban change.
The research focused on two social settings in East Manchester which were under threat of closure – a coffee morning and a market. In these settings, older long-standing residents made community by sharing stories about the loss of social ties.
The research looks at how place and identify can change due to the drastic physical transformation of a place.
During the session, Camilla will argue that we cannot dismiss older people's perspectives as a form of nostalgia. Instead, we must explore how stories about the past influence the way in which social relationships are experienced in the present.
Click here to book your place.
---
ABOUT CYRIL FLINT BEFRIENDERS
With over 5 million elderly people living on their own, and 50% citing television as their main source of company, loneliness is an ever-present problem within our community (Campaign To End Loneliness).
Cyril Flint, an elderly pensioner living on his own in the Trafford area, was a classic example of one such individual. Having spent 20 lonely Christmas holidays on his own, since the passing of his wife, Cyril's story not only evoked a wave of compassion within the community, but it also made us want to do something to help. Setting up an informal befriending service, designed to help prevent social isolation, seemed like the perfect solution. Since its creation, our scheme has grown throughout the Manchester area and we now have an increasing number of active volunteers throughout the community. https://www.cyrilflint.org
---
Living Streets has been running a one year project as part of the Sheffield Age Better programme, which was funded by the Big Lottery.
To mark Older People's Day on 1 October, here you can listen to participants talk about how walking (and working) with Living Streets' project coordinator, Annie, has helped them.
https://www.livingstreets.org.uk/what-we-do/stories/sheffield-age-better
---
---
E-Bulletin Issue 142 – October 2017
This monthly update provides news, event details, information and advice for older people and those who work with and support older people.
This year Age-Friendly Manchester are celebrating International Older Peoples Day with the launch of the refreshed Manchester Ageing Strategy and by honouring two members of the extended Age Friendly Manchester team at a special presentation ceremony.

Both events will happen on Wednesday, 4 October 2017.

Follow us on Twitter (@MCC_AFMTeam) to receive live updates throughout the day. We will be using the hashtag #AFMStrategy
This month, we joined the Lord Mayor in welcoming the Standing Committee for Health and Social Welfare from Oslo City Council to Manchester.
The Committee were interested in learning about our journey on becoming and age-friendly city, and asked questions on aspiring to become an age-friendly employer, creating age-friendly neighbourhoods and forming new age-friendly partnerships.
Elaine Unegbu, Chair of the Manchester Older People's Board spoke to the Committee on living in an age-friendly city, describing how "if it's good for older people, it's good for everybody!"
You can learn more about the Oslo City Council here.
Photo courtesy of the Lord Mayor of Manchester, Cllr Eddy Newman.
Nomads visit St Annes
The ever-popular North City Nomads visited the beautiful Lytham St Annes this month.
Together, 220 Nomads spent a full day in St Annes, enjoying the sunshine while walking along the prom, visiting the many eateries and looking around the High Street shops. Many of the Nomads met up for a celebratory drink before boarding their respective coaches for the journey back home.
The photos above are just a few which were taken on the day; to the left is John Biggs, Trustee and Chairperson of the Nomads Committee, and to the right are good friends Elaine Horne and Charles McDermott, who are both coach coordinators.
There were also two new volunteer coach coordinators on this trip!
The next North City Nomad's trip will be to Leeds on 30 November – the perfect chance to get a bit of Christmas shopping out of the way.
If you would like to learn more about the North City Nomads, visit their Facebook pageor call Tracey on 0161 234 4299.
Upcoming age-friendly events and things to do in Manchester
There are lots of events and regular group activities across Manchester this month and beyond. Activities range from days out, local history groups, IT sessions, health and fitness classes, classic film screenings, dementia-friendly swimming and social clubs.
Please keep checking back as we add events throughout the month.
See our event listings for the latest details.
Here are just three examples:
Out To Lunch with Silver Seniors
Out to Lunch with Silver Seniors is a new weekly radio show on Wythenshawe FM 97.2, launching on Monday 30 October. It will be on from 12 noon to 2:00pm.
The show will include interviews with helpful agencies and groups, feature community centres, nursing homes, care homes, and a sing-a- long spot.
Join Roz Johnson by tuning in to FM 97.2, or you can listen live online.
Everyday places: Why neighbourhoods matter for people living with dementia.
A visual and interactive exhibition as part of the ESRC Festival of Social Sciencepresents findings from a 5-year on-going research study exploring neighbourhoods and dementia.
Please come along and take part in a conversation about neighbourhood, community and the experience of living with dementia.
This is a free event. It will be held on Wednesday 8 November at Manchester Central Library Performance Space, St Peters Square Manchester, M2 5PD. Please drop by between 11am – 3pm.
For further information please email Sarah Campbell.
We also work closely with arts and culture organisations across the city, such as galleries and theatres, who regularly organise events for older people.  Find out more on our Age-Friendly Art & Culture page.
Cuppa and a Chat
A new Dementia-friendly cafe is being launched in Chorlton Health Centre on Friday, 29 September.
Go along to the Cafe and chat in a friendly, relaxed environment. Dementia Support Advisors, Admiral Nurses and the Alzheimer's Society will also attend
A Cuppa and a Chat will be held every Friday from 1:00pm to 3:00pm at Chorlton Health Centre, 1 Nicholas Road, M21 9NJ.
If you have any questions please give Gary or Alex a call on  0161 882 1104.
For further health and support information from a range of partners, including dementia, carer, mental and sexual health advice, visit our Health & Support page.
Local Age-Friendly Contacts
Our age-friendly networks bring together local organisations and groups aimed at older people.  The networks develop local action plans, organise events and are a way to have your say about what's happening where you live in the City.
The Age-Friendly Manchester Team
Established in 2003 as Valuing Older People, Age-Friendly Manchester is a partnership involving organisations, groups and individuals across the city playing their part in making Manchester a great place to grow older.

Contact the team at agefriendly@manchester.gov.uk
We'll be back with our next e-bulletin in a month's time.  Please send us any news articles or event/regular group listing requests at least two weeks ahead.
Please share this email and stay in touch…