October  2017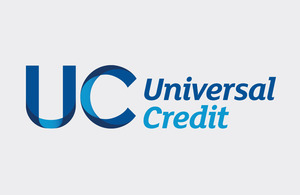 ** IMPORTANT INFORMATION FOR CUSTOMERS **
During the next few weeks you may notice a few changes within your Jobcentre
These changes may include temporary changes to your work coach, the layout of the jobcentre and you being asked a few more questions when you attend about your digital skills.
*******
All of these things are to prepare for
Wednesday 25th October 2017
when we will become a UNIVERSAL CREDIT FULL SERVICE Jobcentre.
********
**** PLEASE READ ****
The way the Department of Work & Pensions delivers its services to claimants has been gradually changing as part of the Government Welfare to Work programme.
As part of those changes all our customers will need to make sure they can access the new online Digital Service to complete their claims online and notify of us of changes to their circumstances.
You will be notified by letter of when the changes will affect you.
If you are familiar with using digital online services, i.e. you have an up to date email account which you use regularly, shop or bank online then you will have no problem following the changes to claiming or contacting the Jobcentre via the new online service.
IF YOU ARE NOT CONFIDENT WITH ANY OF THE ABOVE THEN YOU WILL NEED TO CONTACT YOUR WORK COACH AND ASK FOR HELP ON WHAT TO DO NEXT.
 FAILURE TO DO SO COULD RESULT IN YOU HAVING DIFFCULTY IN CLAIMING OR ACCESSING YOUR BENEFITS.
You will have an online Universal Credit account to manage your claim. You can use your account to report changes, send messages to your work coach and find support.
Eventually all claims will be on the full service and you will have a Universal Credit online account.
The Team
Alex Park Jobcentre
---
                    **                       ** معلومات هامة للعملاء
خلال الأسابيع القليلة المقبلة قد تلاحظ بعض التغييرات داخل مركز العمل الخاص بك.
قد تشمل هذه التغييرات تغييرات مؤقتة على مدرب العمل الخاص بك، وتخطيط مركز.
العمل وكنت يطلب بعض الأسئلة أكثر عند حضور حول المهارات الرقمية الخاصة بك.
*******
كل هذه الأمور هي للتحضير
الأربعاء 25 أكتوبر  2017
عندما سنصبح مركز كريديت كامل خدمة مركز العمل.
    *******
                       ****** ارجوك اقرأ *******                     
والطريقة التي تقدم بها إدارة العمل والمعاشات خدماتها للمطالبين تتغير تدريجيا كجزء من برنامج الرعاية الاجتماعية للعمل.
وكجزء من هذه التغييرات، سيتعين على جميع عملائنا التأكد من إمكانية وصولهم إلى الخدمة الرقمية الجديدة عبر الإنترنت لاستكمال مطالباتهم عبر الإنترنت وإخطارنا بالتغييرات التي تطرأ على ظروفهم.

سيتم إعلامك بكتاب عندما التغييرات سوف تؤثر عليك.
إذا كنت معتادا على استخدام الخدمات الرقمية عبر الإنترنت، بمعنى أن لديك حساب بريد إلكتروني محدث تستخدمه بشكل منتظم أو تسوقه أو تتعامل معه عبر الإنترنت، فلن تواجهك أية مشكلة بعد إجراء تغييرات على المطالبة أو الاتصال بمركز العمل عبر الخدمة الجديدة عبر الإنترنت.
إذا لم تكن متأكدا من أي مما سبق سوف تحتاج إلى الاتصال بك العمل كوتش وطلب المساعدة على ما يجب القيام به المقبل.
الفشل في القيام بذلك قد يؤدي إلى أن يكون لديك صعوبة في المطالبة أو الوصول إلى المنافع الخاصة بك.
سيكون لديك حساب ائتمان عالمي عبر الإنترنت لإدارة مطالبتك.
يمكنك استخدام حسابك للإبلاغ عن التغييرات، وإرسال رسائل إلى مدرب العمل الخاص بك.
والعثور على الدعم في نهاية المطاف جميع المطالبات ستكون على الخدمة الكاملة وسيكون لديك حساب الائتمان العالمي على الانترنت.
الفريق
أليكس بارك مركز العمل
---
                    **                      **اطلاعات مهم مشتریاند
چند هفته آینده ممکن است چندین تغییر در مرکز شغلی شما مشاهده شود.این تغییرات ممکن است شامل تغییرات موقتی به مربی کار شما، طرح مرکز کار و همچنین سوالاتی باشد که شما در مورد مهارت های دیجیتالی خود به آنها مشغول هستید.
*******                                        
     همه اینها برای آماده شدن آماده
استچهارشنبه 25 اکتبر 2017
هنگامی که ما تبدیل به یک مرکز خدمات کامل خدمات اعتباری UNIVERSAL می شود.
*******
لطفا *************
راهکارهایی که وزارت کار و حقوق بازنشستگی آن را ارائه می دهد، خدمات به متقاضیان است به تدریج به عنوان بخشی از برنامه رفاهی دولت برای کار در حال تغییر است.
به عنوان بخشی از این تغییرات، مشتریان ما باید اطمینان حاصل کنند که می توانند به سرویس جدید دیجیتال آنلاین دسترسی داشته باشند تا ادعاهای خود را به صورت آنلاین تکمیل کنند و از تغییرات در شرایط آنها مطلع شوند.
شما از طریق نامه اعلام می کنید که تغییرات.
شما را تحت تاثیر قرار دهداگر با استفاده از سرویس های آنلاین دیجیتال آشنا هستید، به عنوان مثال شما دارای حساب ایمیل روزانه خود هستید که به طور منظم، فروشگاه یا
بانک آنلاین را استفاده می کنید و پس از تغییرات به ادعای یا تماس با مرکز شغلی از طریق.
اگر شما با هیچ کدام از موارد فوق موافق نباشید، باید با شما تماس بگیرید و درخواست کنید که چه کاری انجام دهید.
ناکامی در انجام چنین کاری ناشی از عدم وجود مزایا و مزایای شما است.
برای اداره ادعای شما یک حساب اعتباری آنلاین جهانی خواهید داشت.شما می توانید از حساب خود برای گزارش تغییرات، ارسال پیام به مربی کار خود و پیدا کردن پشتیبانی استفاده کنید.
در نهایت تمام ادعاها در سرویس کامل خواهند بود و شما یک اعتبار آنلاین اعتباری جهانی خواهید داشت.
تیممرکز
تجارت الکس پارک