Featured Opportunities
Community on Solid Ground (CSG) is currently advertising for a Youth and Community Sports Officer and we'd be
grateful if you were able to circulate this info to all relevant networks.
CSG is an active and effective local organisation based in the heart of Whalley Range (South Manchester).
We specialise in enhancing the lives of young people through the power of sports, youth work & mentoring interventions.
We work with the most disadvantaged young people in the area aged 6 – 19.
Post Details:
Post: Youth and Community Sports Officer Salary: £19,126, 11 hours per week) (Actual £5,610.29)
(This post is funded until Nov 2018)
We are seeking an enthusiastic and committed person who will be responsible for the development of a programme aimed at
supporting young people to plan, deliver and evaluate a range of community projects.
Online link to application and guidance:
www.manchestercommunitycentral.org/job/youth-and-community-sports-development-coach-community-solid-ground
Closing date for applications: 2pm, Tuesday 30th January 2018
Please note: any applications sent after this time will not be accepted.
Interviews will take place on Tuesday 6th February 2018
Start date: Immediately
For further information please contact CSG admin on:
Email: admin@yosg.org.uk
Tel: 0161 862 0955
---
---
---
 
Job Opportunities from Manchester Community Central
Job Opportunities
Community and Events Fundraiser at Henshaws
Salary: £23,259 per annum FTE / £11,629.80 pro rata, Hours: 17.5 hours per week
Deadline: Wednesday 31 January 2018, 12:00
Mental Health Practitioner (Counselling and Therapy or Community Mental Health) at 42nd Street
Salary: £23,398 – £27,668 per annum (pro rata), Hours: 37.5 hrs per week
Deadline: Monday 5 February 2018, 10:00
Archivist at The Ahmed Iqbal Ullah Education Trust
Salary: £27,629 pro rata, Hours: 28 hours per week
Deadline: Monday 5 February 2018
Digital Officer at The Ahmed Iqbal Ullah Education Trust
Salary: £22,494 pro rata, Hours: 21 hours per week
Deadline: Monday 5 February 2018
Trainee Archivist at The Ahmed Iqbal Ullah Education Trust
Salary: £16,961 pro rata, Hours: 21 hours per week
Deadline: Monday 5 February 2018
Employment Coach / Trainer at Groundwork
Salary: £22,330 – £24,000 per annum, Hours: 37 hours per week
Deadline: Monday 5 February 2018
Wellbeing Coordinator at Back on Track
Salary: £24,174 – £27,668 per annum, Hours: 35 hours per week
Deadline: Wednesday 7 February 2018, 12:00
Work and Skills Specialist at Manchester City Council
Salary: £37,306 – £41,025 per annum, Hours: Full time
Deadline: Thursday 8 February 2018
Family Casework Manager at Out There Supporting Families of Prisoners
Salary: £27,000 per annum, Hours: 35 hours per week
Deadline:  Monday 12 February 2018, 9:00
Achieve Coordinator at Back on Track
Salary: £24,174 – £27,668 (pro rata) per annum, Hours: 28 hours per week
Deadline: Monday 12 February 2018, 17:00
Admin Assistant at Manchester Maya Project
Salary: £18,400 per annum, Hours: 35 hours per week
Deadline: Monday 12 February 2018
Mental Health Champions Programme Co‐ordinator at YMCA Manchester
Salary: £18,000‐£20,000 full time equivalent per annum, Hours: 3 days per week
Deadline: Monday 12 February 2018
Business Development Manager at Fairfield Recycling
Salary: from £34,098 per annum (gross), Hours: 37.5 hours per week
Deadline: Sunday 25 February 2018
Finance Officer at Fairfield Recycling
Salary: £18,768 – £20,465 per annum gross, Hours: 37.5 hours per week
Deadline: Sunday 25 February 2018
Human Relations Officer at Fairfield Recycling
Salary: £18,768 – £20,465 per annum gross, Hours: 37.5 hours per week
Deadline: Sunday 25 February 2018
Read more
Click here for more job opportunities
---
Apprentices are being offered the opportunity to contribute to some of the most high-profile construction projects in Greater Manchester, working with a range of leading employers.
Total People, in partnership with Manchester City Council and Manchester Life Development Company, are offering apprentices the opportunity to contribute to some of the most high-profile construction in the region, representing a genuine alternative to university. 
Apprentices will gain a Construction and Building Services Management Level 4 NVQ and a HNC qualification, while picking up invaluable industry experience that will put them ahead of their peers.
Total People, part of LTE group, is one of the largest providers of work-based learning in the North West, directly supporting over 2,000 employers and 6,000 learners with Apprenticeships, study programmes, traineeships, ESF short courses and commercial courses.  Total People works with a significant number of major employers across a number of vocational areas.
The MFutures programme, led by the City Council, will include the Our Town Hall project and will be strengthened by the support of key developers and specialist trade contractors.  
The Our Town Hall project will safeguard, repair and partially restore the building, which, while structurally sound, is more than 140 years old and seriously showing its age, with many elements reaching the end of their natural lifespans.  A key objective of Our Town Hall is to create and maximise local employment opportunities and so apprenticeships on this once-in-a-lifetime project are being offered specifically to Manchester residents.  
Linda Dean, Managing Director of Total People, said: "We are proud to be part of an innovative project that provides apprentices with a real alternative to university.
"There are no fees, loans or debts on an Apprenticeship programme and apprentices will earn a salary of £15,000, rising in-line with age related and performance pay structures. On completion they can make over £20,000 and potentially obtain company sponsorship to complete a degree in their chosen pathway.
"This is a unique opportunity to work and develop skills while experiencing a number of different professional roles, and work within a wide range of areas."
Executive Member for the Environment and Skills, Councillor Angeliki Stogia, said: "The MFutures apprenticeship scheme is a fantastic option for Manchester residents who are keen to pursue a career in the construction sector.  Those who join MFutures are offered a fast-track route into paid work, resulting in academic qualifications which will open doors to a wide range of jobs in the future – while also gaining the opportunity to contribute to major schemes like the Our Town Hall project." 
The kind of roles apprentices can experience during the project include Developer, Designer, Project Manager, Quantity Surveyor, Speciality Local Authority and Consultancy.
Throughout the Apprenticeship, they will learn about briefing, design preparation, quantity surveying, project management, planning application and consideration, procurement of contractors, and the finishing stage of construction.
The project is open to anyone over the age of 18 who holds a GCSE English and Maths grade C or above and a Level 3 qualification or A-level in a relevant subject area. The closing date for applications is 22 April 2018.  
Applications can be submitted online, or by calling 01606 734 000.
---
Are you interested in learning Mandarin? One of our volunteers, who is a native speaker, would like to offer classes at St John's Centre.
The classes would be held during the day, and would be low cost (donations).
Creche places may be available.
If you are interested, please contact the Centre,
---
JOIN OUR TEAM
At Manchester Life we are driven by a true passion for our vibrant, charismatic and progressive city.
We are a home-grown developer that blends a deep connection to Manchester with global real estate development and management expertise.
Our vision is to set the benchmark when it comes to property development in Manchester. To inspire its people with our beautiful, high quality homes.
Delivering on our ambitious plans calls for a team of talented and passionate professionals, and we are recruiting.
If you share our values and feel you bring the right experience for any of the listed positions, then we really want to hear from you.
---
The Greater Manchester Winter Night Shelter is a group of churches and community buildings which provide shelter, a hot meal and companionship to 12 homeless men every night over the winter months.
In January-April 2016, St John's Centre will be hosting the Night Shelter every Saturdaynight.
The project needs volunteers to staff shifts (evening, overnight or morning), and to help with cooking, laundry, driving, and other tasks. You can commit as much or as little time as you can spare; you do not need to have any experience working with homeless people, and training will be provided.
There is more information about volunteering, and instructions on how to register online, on the GMWNS Timecounts page.
If you are interested and would like to find out more, or would like help registering as a volunteer, St John's Centre staff (including people who have volunteered for the Shelter in previous years) will be available to help every Tuesday from 12-1.30pm. You can also call us on 0161 872 7795 email us with questions at emma@stjohnscentre.org.
---
St John's Centre Courses:
---
Jobs from GMCVO Website
https://www.gmcvo.org.uk/vacancies
———————————————————————————————————
Information on other vacancies with charities in the North West can be seen at: www.charityjob.co.uk/jobs/north+west
---
Arts Jobs from Arts Council England
---
 Volunteering
Sign up now with Volunteer Centre Manchester
If your organisation works in Manchester and involves volunteers, you are encouraged to register with Volunteer Centre Manchester.
Volunteer DBS (CRB) checks
DBS Manchester and Salford provides a quality and professional DBS (Disclosure and Barring Service) checking service and Safe Recruitment advice centre. DBS Manchester and Salford is provided by Salford CVS.
For further information click here
 or contact 0161 787 7795, or email:
dbs@salfordcvs.co.uk
---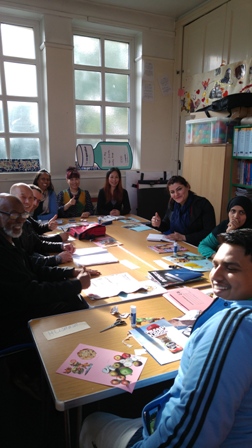 ---
JNR8: Work Club, confidence and self esteem building and dyslexia screening.
Contact 881 3744 for details…
---
If you're a Twitter user, please follow the new Work and Skills Team twitter account for news of upcoming events, vacancies, apprenticeships and other opportunities open to Manchester residents.
https://twitter.com/McrYouthMarket
---
Please follow the link below to view this week's round up of vacancies, apprenticeships and other opportunities open to Manchester residents.
http://us13.campaign-archive2.com/?u=75928cb6bbb6e91602d106ce2&id=04cad43cc4
---
 GMCVO Featured Vacancies/Opportunities
———————————————————————————————————
TRUSTEE AND
VOLUNTEER VACANCIES
——————————————–
♦
OXFAM (CHORLTON)
Oxfam Chorlton are launching an online shop for their two shops based on Wilbraham Road. They are looking to recruit a new and enthusiastic volunteer team to photograph, research, price and describe the very best donated items from their fully-equipped hub above the Chorlton Standard shop. They are currently recruiting for the following five roles:
Online Photography Volunteer
Online Volunteer
Online Photography Volunteer (Bookshop)
Online Volunteer (Bookshop)
Oxfam Online Shop Dispatch Volunteer
Location: Chorlton
Contact Sarah Mason – smason1@oxfam.org.uk or the Chorlton shop on 0161 861 0108
—————————————————–
♦ MANCHESTER CARERS FORUM
Peer Mentor
Manchester Carers Forum supports all unpaid carers. The Dementia Peer Mentoring and Befriending Project offers support to unpaid carers who are caring for someone with dementia. Peer Mentors provide 1-1 support to carers and they also will visit carers or speak to them over the telephone at times convenient for the carer and volunteer. When required they will also refer carers to groups, services and information that may prove useful and help them feel less isolated.
Location: Manchester
For more information contact Anne or Ian on 0161 819 2226 or anne@manchestercarersforum.org.uk
———————————————————-
♦ THE WOODEN CANAL BOAT SOCIETY
Volunteers
The WCBS has the second largest collection of former working wooden canal boats in UK. Not only do The WCBS restore and preserve boats but they also find new uses for them and put them to work on behalf of the local community. Becoming a volunteer for The WCBS provides opportunities for people to learn new skills and make friends all whilst do something useful and rewarding. The WCBS are looking for adaptable, reliable volunteers who can work as part of a team but also work alone on something when necessary.
Location: Tameside
——————————
♦ MANCHESTER SETTLEMENT
Trustees
Manchester Settlement is one of the oldest charities in Manchester. For 120 years local people have volunteered to be trustees of the charity. Being a trustee is fundamentally about ensuring that the charity stays on course to impact positively upon the lives of the residents of Manchester. After initial induction trustees will work with fellow trustees as a group around 6 times per year.
Location: Manchester
———————————————————————————————————
Information on other vacancies with charities in the North West can be seen at: www.charityjob.co.uk/jobs/north+west
Manchester City Council
Vacancies at various levels and fields.
Click here for more details and to apply.
---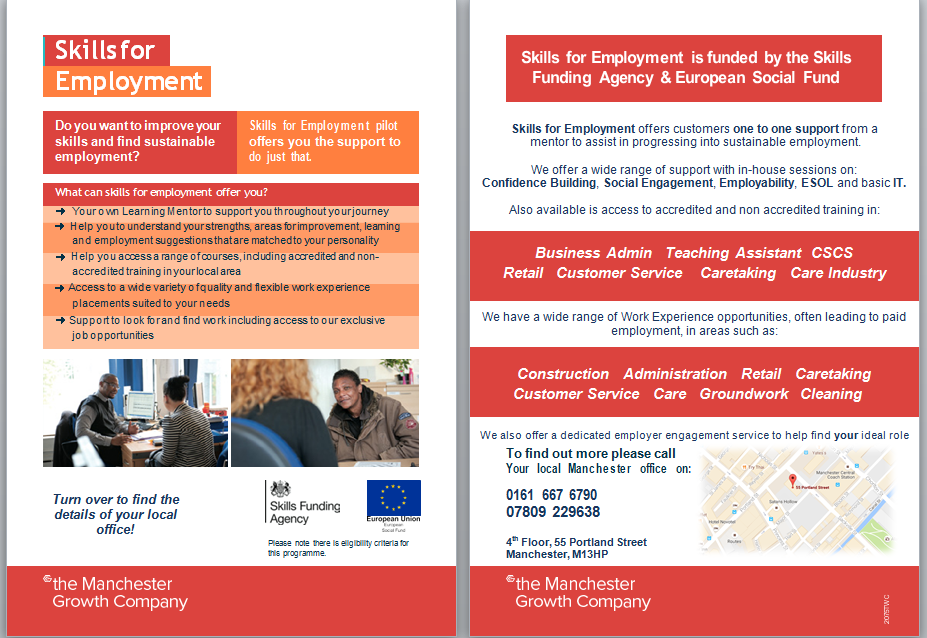 ---
---
---
 PLEASE 
CHECK CLOSING DATES!
Check 'Generating Opportunities' for volunteering, training/employability related news
www.whalleyrange.org/category/workclubs/
Visit Jobcentre plus in Manchester –  @JCPinManchester on Twitter for alerts to new and current jobs/advice/opportunities
https://www.yourcounciljobs.co.uk/ – opportunities across 10 councils
---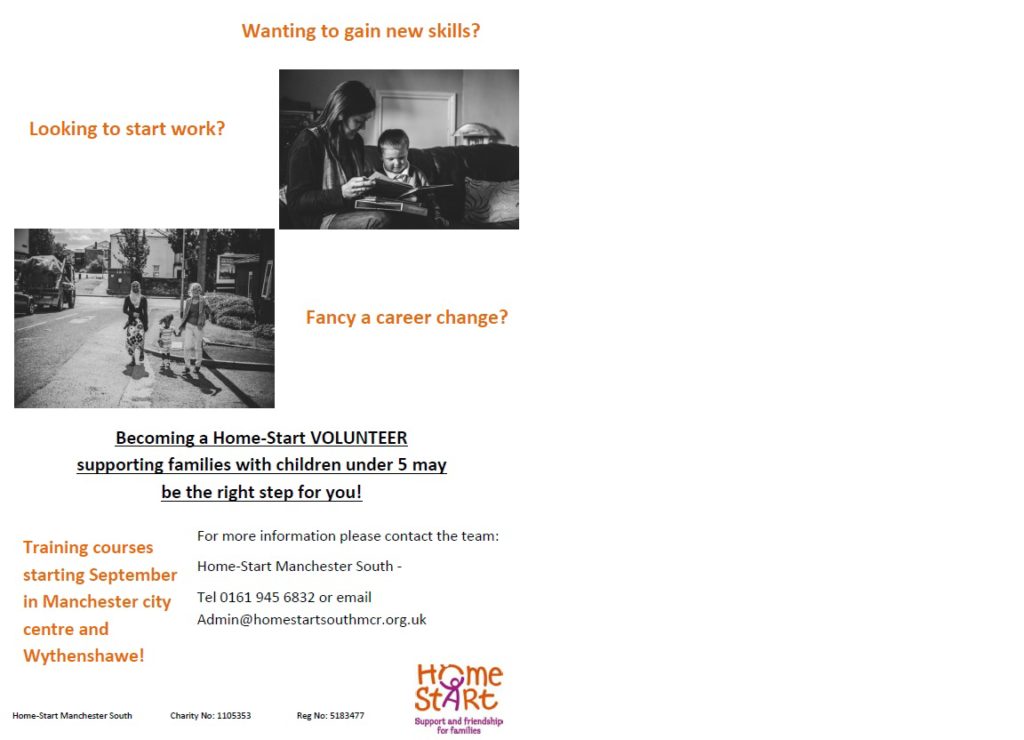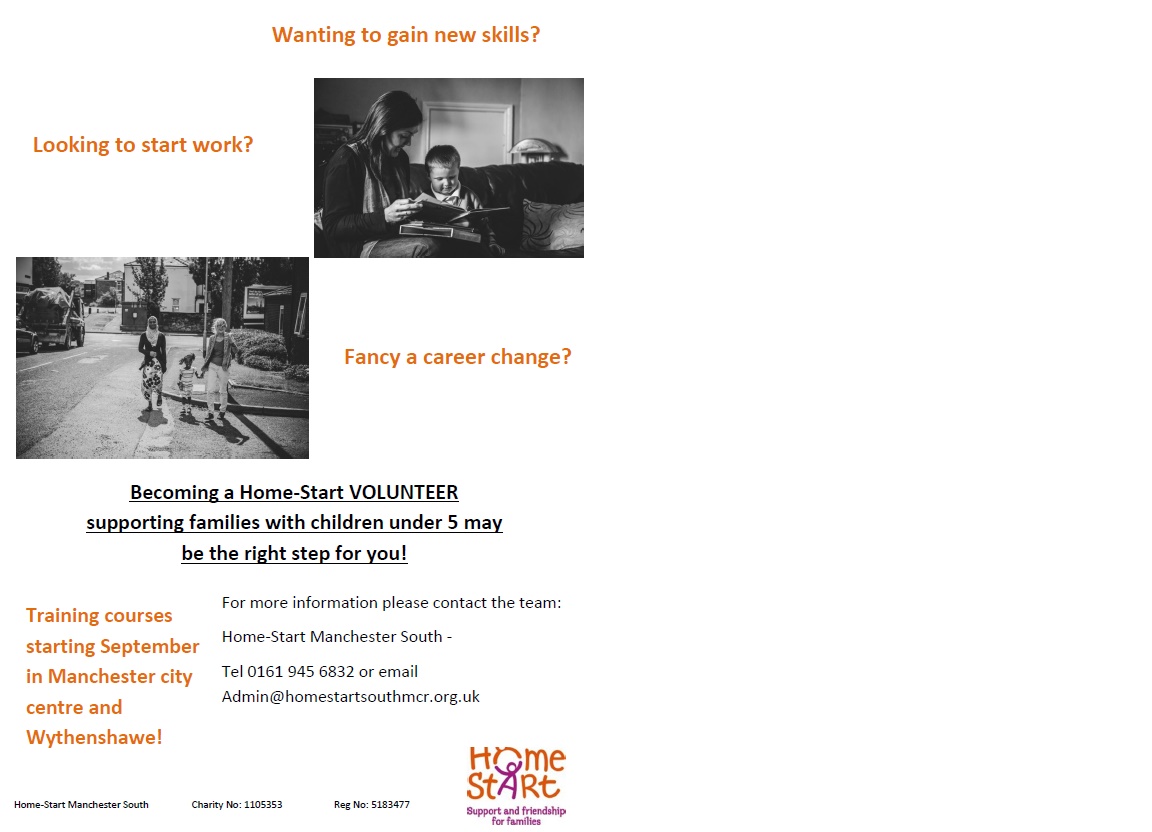 ---
Born to Read trains volunteers to read with children on a one-to-one basis developing their skills and confidence.  Across Manchester there are opportunities for local residents to give back to their community and volunteer for Born to Read, a partnership between Save the Children and Beanstalk. They are looking for members of the local community who could spare some time sharing their love of books with pupils.
Schools across Manchester are looking for new Born to Read volunteers. Potential volunteers must be able to commit to visit schools twice a week during term time and receive training so they can deliver reading support to primary school children.
For more information about volunteering for Born to Read in Manchester call Save the Children's volunteer support team on 020 7012 6997 or visit their website.
For further information about these and many other volunteering opportunities, see our

Work & Volunteering page.
---
Do you live or work in Manchester?
Thinking about starting your own business or already trading?
Need advice at a time and place that suits you?
Help is at end with a free online advice, information and networking service.
Live chat is available Monday–Friday between 9am and 7pm (excluding public bank holidays). All enquiries left outside of these hours will be responded to first thing the next working day.
This service can be used alone or in conjunction with face to face services delivered by organisations such as the Business Growth Hub www.businessgrowthhub.com or Prince's Trust www.princes-trust.org.uk
Create your account now by visiting www.manchester.gov.uk/businessadvice
---
OurManchester
Anyone can make great ideas happen through crowdfunding! What could you or your organisation do to make to transform Manchester's parks, open spaces and other areas of the city?
Come to this practical workshop and find out how you can:
Find out more about the project and what you have to do
How the match pledging works
What makes for a successful crowdfunding campaign
We've got £60k to pledge to crowdfunding projects that improve parks and greens spaces in Manchester alongside up to £125k from partners including Growing a Greener Britain, Esmee Fairbain and Better for projects across the city.
https://www.spacehive.com/initiatives/ourmanchester
Vacancies from the GMCVO website (from external sites)
PSS Shared Lives
We're looking for people who want to support others with the flexibility of working from home and being paid a fair wage while meeting new people and changing lives for the better.
Sound like you? If so, becoming a Shared Lives carer might be the change you're looking for.
PSS developed the UK's first Shared Lives service in Liverpool over 30 years ago but today it is a nationwide programme. Shared Lives is a form of support where vulnerable adults and young people over 16 are supported by a specially recruited and trained carer.
The service comes in many different formats, from day support to short breaks to longer term placements. Shared Lives carers roles vary depending upon which format is preferred for example, a day support carer might only support people during regular working hours whereas a longer placement carer would have individuals staying with them in their own home full time.
Our carers come from all walks of life. Some people have had experience of caring for others in the past, but many haven't. Some have grown up children who've left home, some have large families who help to care, others live on their own with the person they support.
First and foremost our carers are committed to improving the lives of others. People who are caring and willing to go that little bit further to make a difference to someone else's life. Our carers just have to be keen to learn and take part in our training programme
Find out more: PSS Media Pack
https://www.onemanchester.co.uk/work-for-us/vacancies
---
Use art and objects to practise English
Manchester Art Gallery
Wednesday 13 April 2016, 1pm–2.30pm
Free
English corner is a free English conversation class for people learning English.  Our English teacher leads activities that will help people to practise their speaking and listening skills, whilst exploring artworks and collections on display.
No need to book, just meet Kate at the Information desk.
English corner takes place four times a month:
First Tuesday of the month from 1-2.30 at Manchester Museum
Second Wednesday of each month from 1-2.30 at Manchester Art Gallery
Third Thursday of each month from 6.30-8 at Manchester Art Gallery
Fourth Friday of the month from 10.30-12 at the Whitworth
Groups of up to 10 learners are very welcome but you must book. Please contact Ruth Edson for more information.
Tel: 0161 2358877
Email: r.edson@manchester.gov.uk
---
Department for Work & Pensions
---
---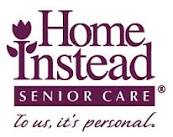 WANTED!
Kind hearted, friendly and reliable people to become Caregivers – we are Home Instead and we aim to support elderly people in our community to remain happy and independent at home – minimum one hour visits, continuity of Caregiver so relationships can be developed.
£7.50 an hour plus holiday pay and mileage.
Click on Job Description/Application Forms below:
A5 Rec poster Train 2up S Manc k version
CAREGiver Job Description and Person Spec v2014.2 (1)
---
Catering Assistants x 40 across  schools. See:http://ow.ly/WArTS  P/Time, term time @yourcounciljobs
---
          @EmployerSuite / @JCPinManchester  /  @JCPinCheshire  
---
---