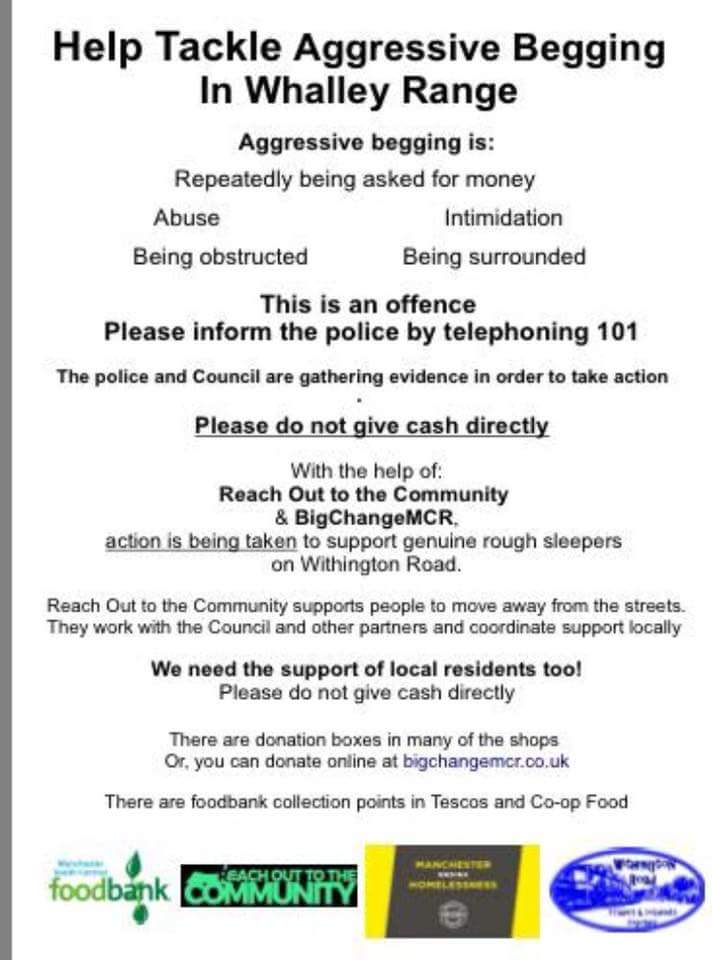 Great video by Adam Cox to promote the work that we do at Reach Out to the Community.

Posted by Reach Out to the Community- CIO on Friday, December 1, 2017
HAPPY NEW YEAR:
We would like to take this opportunity to wish everyone a Happy New Year & thank all our volunteers, trustees, everyone who donates or supports the work that we do and those that have raised funds for Reach Out to the Community.
2017 has been stressful and amazing year for us. We've been overwhelmed with the support from the local community, councillors and fellow traders at a time when we needed it.
This year we opened our Reach Out to the Community Hub In Chorlton which was a great opportunity for us to be able to offer more support and stability for the future.
We've worked alongside some inspiring people and formed some great partnerships with other organisations/ charities, and the experience and knowledge from the many amazing organisations has been invaluable to us at times and we are grateful for that.
Just before Christmas we received the fantastic news that we are now a registered charity, this process hasn't been easy for us but we had great support from GMP, MCC,Riverside, Whalley Rangers and Cracking good food, it's been worth the stress and tears to end the year with it completed.
We with other organisations have helped get a number of people of the streets and into accommodation, we've also helped to prevent some individuals from being evicted and ending up homeless.
We've provided food parcels, household items and baby items to people in need.
We provide assistance with peoples benefits claims, provide food, clothes, toiletries, mobiles for rough sleepers and facilitate the charging of mobile phones. We've also provided id, travel passes for people we support. We have an outreach team who go out weekly or more covering South Manchester to make sure that we are able to reach people whatever the circumstances are. The team are experienced and they are able to provide the correct information about what is available and where they can get the help any rough sleepers might want. It's paramount for the correct information to be given due to the fact it might be vital to the individual. This is why we attend regular training/meetings to ensure we are updated with any changes.
We regularly drop off donations at hostels and we've been on the steering group for the new Longford Hostel In Chorlton.
In 2018 we hope to carry on doing what we do and build upon the support we already provide. We don't know what might be waiting for us in the new year but we can assure you that we are evolving every day to ensure that the community hub is available for anyone who wants support or assistance in anyway.
Happy New Year from everyone at Reach Out to the Community, RoC
REACH OUT TO THE COMMUNITY: COMMUNITY HUB AND CHARITY SHOP:
488 Wilbraham Road, Chorlton, M21-9AS.
OPEN: Mon-Sat, 10.30am-4.30pm
The current activities of the project:
The main activity is to offer practical and direct help such as:
• Providing a foodbank service
• Help getting housing or accommodation
• Help with filling out forms
• Assistance with travel costs to appointments
• Accompanying people to appointments
• Help registering with a GP
• Providing a "care of" address in order to help in accessing services.
We are already successful in delivering these services and as such, we have built up a strong reputation amongst our client group, the local community and with partner agencies.
The new and expanded activities of the project:
• The new charity shop that will provide a business income that can support the long term viability of the project.
• Provide clean clothes, free of charge, to rough sleepers
• Provide a space at the back of the shop for partner agencies to use as a hot desk space to directly support clients.  For example, discussions have already taken place with Inspiring Change (part of Shelter) to have a worker meet with clients and provide support.
• Provide a space in the shop for workshops, discussions, coffee mornings etc.
• Provide volunteering opportunities in the shop to a range of local people and clients from other services.
• Provide a clearer focus point for service users and for the local community to demonstrate their support for local homeless people and rough sleepers.
Working with partners:
ROC is part of the Coalition of Relief, a Manchester partnership with groups like Barnabus, Coffee4Craig, Lifeshare, VOW and others.  We meet regularly with other members of the Coalition in order to share expertise and make sure that resources are targeted where they are most needed.   We will be working with other groups to provide volunteering opportunities for their clients.
We already work closely with local traders and we continue to be active members of the Chorlton Traders Group.   We have a wide network of support amongst local residents who know that they are supporting local homeless and vulnerable people when they donate or provide other support to ROC.
We work closely with the Police and the City Council and are part of a locally agreed, multi agency protocol on supporting rough sleepers.  We work closely with the Council's Rough Sleepers Team on a day to day basis and with the Neighbourhoods Team to manage local issues.
If you are concerned for anyone who is begging/ sleeping rough in and around the Chorlton area then you can refer them to Reach Out to the Community for support.
---
(photos of JNR8 food projects)
---
FOODBANK REFERRAL & VOUCHERS
From Wednesdays from 12-1 pm people in crisis can visit JNR8 during during term times to receive a food voucher to exchange for 3 days shopping at the St Edmunds Church Foodbank…
Call 881 3744 during holiday times to visit by arrangement…

WE ARE OPEN
St Edmund's, Alexandra Road South, Whalley Range, Greater Manchester, M16 8EZ
Wednesday 1pm – 3pm
Wesley Centre, Royce Road, Manchester, M15 5BP
Saturday 11am – 1pm
——————————————
How it Works…
Food is donated
All food given out by foodbanks is donated. Often this is from schools, churches, businesses, individuals, or through supermarket collections. Supermarket collections help foodbanks engage the public. Foodbank volunteers offer shoppers a 'foodbank shopping list' and ask them to buy an extra item with their shop. This food is then handed to volunteers waiting beyond the checkout who pack it before it is taken to the foodbank warehouse for further sorting and storage.
Food is sorted and stored
At the warehouse, volunteers weigh and sort the donated food according to type and 'best before date'. They also check it is undamaged and suitable for use before packing it into boxes for storage.
Frontline professionals identify people in need
Professionals from statutory and voluntary organisations such as doctors, health visitors, social workers, Citizens Advice Bureau staff, welfare officers, the police and probation officers, identify people in crisis and issue them with a foodbank voucher.
Clients receive emergency food
Clients bring their voucher to a foodbank centre where it can be exchanged for three days supply of emergency food. The list of foods in each parcel have been designed by dieticians to provide recipients with nutritionally balanced food. Some foodbanks run a delivery service, to get emergency food to clients living in rural areas and those who are unable to get to a foodbank.
Clients are signposted to further support
Whilst their food is being packed, Foodbank volunteers will sit and chat with clients over a cup of tea or hot meal. This enables them to hear their stories and signpost them to agencies who can offer additional help and begin to resolve any underlying problems.
——————————————
For enquiries, please contact us on:
info@manchestersouthcentral.foodbank.org.uk
Feed Manchester is a non-profit organisation, run by the people, for the people. Our aim is to give back to people less fortunate than ourselves by raising awareness, taking action to reduce poverty & improving human life.
One cold November evening two friends delivered 14 cups of hot soup to the homeless along Deansgate. Since then we have grown phenominally and now work week in, week out!
With the help of 130 amazing volunteers we have delivered almost 10,000 meals!!
Visit our Get Involved page to find out how you can do your part.
Free food and where to find it
Over one million three-day emergency food supplies were given to people in crisis last year by the Trussell Trust.
To get access to a food bank you may need to first get a voucher from a local charity, doctors' surgery, health visitor, social worker or your local Citizens Advice bureau.
There are also emergency breakfast schemes for children, places to go for a hot meal, and soup kitchens.
Have you ever worked in a pub?
If you have ever worked in a pub, bar, or brewery, the Licensed Trade Charity may be able to help you. They provide financial help as well as assistance with health, housing, debt and more.
Benefits Update: August Bank Holiday
If your benefit payment is due on a bank holiday, you will be paid on the last working day before the holiday. This means if your benefits are due to be paid on the bank holiday taking place on Monday 28 August, you can expect to be paid on Friday 25 August instead.
How much will you get when you retire?
If you retire after 6 April 2016, you will be entitled to the new State Pension. The amount that you receive depends on your national insurance contributions. The maximum is £159.55 per week.
Poll question: What causes financial instability?
Anyone can find themselves struggling to make ends meet, often as a result of a sudden change in circumstance. If you have had a life changing event in the last 12 months which put a strain on your finances, please let us know what caused it by voting on one of the options below:
a) Bereavement
b) Relationship breakdown
c) Job loss or change in working hours
d) Illness, injury or disability diagnosis
e) Having a child
f) Emergency housing costs
g) Other
Poll question: Last month's results
Last month we asked about zero hour contracts. They have been praised because they offer flexibility, but criticized for being exploitative. Our question was: 'Do you believe that the benefits of zero hour contracts outweigh the disadvantages?'88% of you said No
12% of you said Yes
Turn2us
Hythe House  |  200 Shepherds Bush Road  |  London W6 7NL
Visit us: 
www.turn2us.org.uk
  Call us: +44 (0)20 8834 9200Turn2us is a trading name for Elizabeth Finn Care. Elizabeth Finn Care is a charity registered in England and Wales No: 207812; and in Scotland No: SC040987. The information contained in this message should be regarded as confidential and is intended for the addressee only unless explicitly stated. If you have received this message in error the sender must be notified and the message deleted. Views expressed in this message are personal and not necessarily those of Turn2us, unless explicitly stated.
Copyright © 2017 Turn2us. All rights reserved.
---
| | | |
| --- | --- | --- |
| | | |
| | | |
| | BECAUSE EVERY MOUTHFUL MATTERS | |
| | | |
WELCOME TO OUR JUNE EDITION
IT'S THE SUMMER OF LOVE FOR LONELY LEFTOVER FOOD!
Dear Chris Ricard,

Summer is not a time to be spent indoors, preparing dishes that can take an age to cook. It is a time however to mix and match with friends or family, and an opportunity to use up those foods that may not last as long this time of year, due to the warm weather. Love Food Hate Waste is looking at making the best use of our lonely leftover food instead of forgetting about it until it's too late. We are coming up with ideas to fix up our unloved leftovers and turn them into delicious money-saving dishes that are tempting enough to share with those you love.
SHARE THE LOVE
As part of our Lonely Foods campaign from 23 June, look out for our funny little love stories starring some of the foods that are in danger of missing their best before date (yes, we know it's often safe to eat these foods after this date) and being dumped. Sometimes, we only need a little nudge of inspiration to help easily-overlooked seasonal foods find their perfect match instead.

Follow our Lonely Foods campaign on Facebook, Instagram and Twitter to find out more, and don't forget to use the #FoodLoveMatch hashtag.
OPPOSITES ATTRACT
Like all good romantic comedies, opposites attract so don't be afraid to combine foods that you think at first might not get on. Gather forgotten items from the fridge and by adding in foods from the cupboard or freezer you can direct your own masterpiece of flavour. (Rather like a budget movie, you can save loads of money by being crafty and creative with what you have bought, as each of us dumps the equivalent of two and a half main meals each week).

Fruit and veg, including spuds, are ideal foods on which to start because they're great mixers. We also waste a lot of them so rekindle your interest by trying out something new.

In the summer, salads made with all sorts of combinations of your favourite foods are quick and easy to throw together and allow you to introduce all those single portions of leftovers to each other that would otherwise get left on the shelf or languish in the fridge salad drawer or cupboard.
| | | |
| --- | --- | --- |
| | | |
| | FANCY CHECKING OUT THE COMPETITION? | |
| | | |
If you fancy being a food matchmaker we're giving you the chance to win a Dinner Date worth up to £100 of your own by finding your food its perfect match.

To enter, take a before and after photograph of a tasty dish that you have made using your leftover food item that may otherwise be wasted, using as many or as few additional ingredients as you'd like.

Share your photograph in one or more of the following ways using the #FoodLoveMatch hashtag:

·         Facebook – as a comment to our competition post

·         Twitter – as a Tweet from your account, tagging @LFHW_UK

·         Instagram – as a post from your account if your account is public, tagging the photo with @LFHW_UK.

(If your Instagram account is private, we will be unable to see your post and your entry will not count. If this is the case, please enter via Facebook or Twitter instead.)

There are three prizes, one for each channel, so why not enter as many times as you like!

Visit our website for terms and conditions.
SPUDS THAT SCRUB UP BEAUTIFULLY
Spuds are always there for you, so it's easy to take them for granted. But introduce them to the right partner and they can have their chance to shine. This easy recipe for Loaded Potato Wedges transforms them from the poor relation of the cupboard.

Leftover cold potatoes can grab attention by being smothered in leftover dips – salsa gives them a tapas turn, or creamy dips make a fast alternative potato salad. Other chopped veg – spring onions or radish for example – can turn up the heat a little.

Visit our website for more tips and hints on how to match your lonely foods with a perfect partner.
Lettuce get together! (Sorry, we couldn't resist…) Don't let lettuce remain just a bit on the side! This recipe for elegant

Bagged Lettuce Bites

(or 'Lettuce Love Bites' as we're calling them) allows it to become a party piece.

Take special care of your bananas. If ignored and left in the fruit bowl they can go off quickly in the warm summer weather. Rescue them by taking them for a quick dip and add some bling in this recipe for Frozen Banana and Chocolate Lollies.
Join us on Facebook, Twitter and Instagram
WRAP, Second Floor, Blenheim Court, 19 George Street,
Banbury, Oxon, OX16 5BH | Copyright © WRAP 2017
---
---
Congratulations on reaching the Crowdfunding target!
Real Junk Food Manchester cafe & restaurant
Who are we?
Real Junk Food Manchester is a not for profit project. We source food that would go to waste, cook it up into awesome meals, and serve them to anyone and everyone on a pay-as-you-feel basis. We aim to stamp out food waste, campaign to make our food system fairer and more sustainable, and support some of Manchester's most vulnerable residents.
Great news for @realjunkfoodmcr http://www.manchestereveningnews.co.uk/whats-on/food-drink-news/manchesters-first-food-waste-restaurant-12413169 … via @MENnewsdesk – exciting times ahead!
Please support our crowdfunder campaign to open Manchester's first waste food pay-as-you-feel restaurant!
http://www.crowdfunder.co.uk/real-junk-food-manchester
Watch the Crowdfunder campaign video here: https://youtu.be/8on5OKgh0NE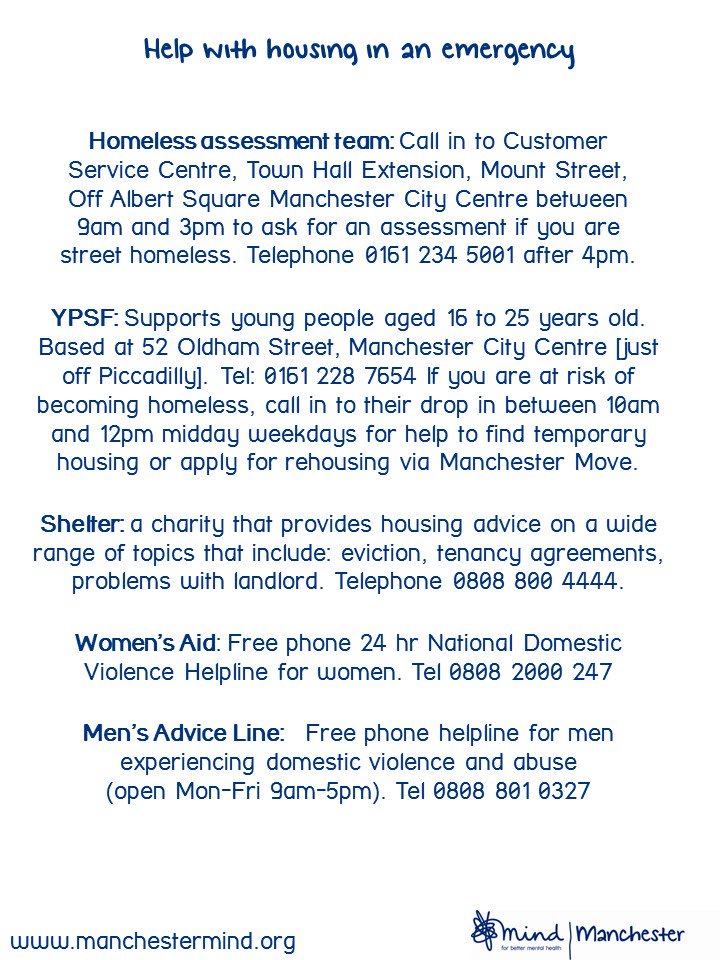 Homelessness In Chorlton:
Becky and I have been working with the homeless for over 3 years. In the last 2 years the issue of homelessness has become more noticeable within Chorlton. Some people are of the opinion that Chorlton has one of the biggest issues of homelessness outside of the city centre. You only need to take a walk around Rusholme to see the difference.
Chorlton has had a big increase in those street begging in a relatively short amount of time, however some maybe street beggars who already have accommodation.
'Reach Out to the Community' was founded in May of this year. Our aim is to help those living without homes as well as to help those living in food poverty. We have been offering support to rough sleepers on a regular, sometimes daily, basis. We are able to provide food, clothes, footwear, sleeping bags, toiletries, phones/chargers. We can facilitate the charging of mobile phones or provide individuals with a phone to use, often to make appointments. We can also provide them with a care of address for anyone who is homeless which assists with claiming benefits.
ROC regularly work with partner agencies such as GMP, they accordingly advise any new person begging and often signpost them to Elliott's Greengrocers to speak to us. Regular contact is made with the Urban Village Medical Practice about particular individuals health and medical needs. Manchester City Council/Rough Sleepers Team are contacted on a regular basis regarding who is sleeping rough locally, enabling them to get the relevant help and support they need.
Currently out of the 10 people that we know to be regularly street begging, only 2 of them are classed as homeless. However, we have had another 2 individuals that come and go from the area that are also homeless. If anyone has any concerns about someone sleeping rough around Chorlton then please contact us:
Facebook: Reach Out to the Community
Twitter: @ReachOut_Com
Instagram: Reachoutcommunity
Email: reachoutcommunity@yahoo.com
---

---
 Nine cafés in Greater Manchester where you can buy a suspended coffee
Buy a suspended coffee and a homeless person can pick up a brew when they need it the most
The winter nights are drawing in and as temperatures plummet outside, life for people on the streets gets even tougher.
Homeless charities and Manchester Council advise not to give out change to the homeless, saying that even if the person receiving it has a real need, the benefit is short term.
But there are a range of practical things you can do to support charities that are working to end homelessness in Manchester, such as donating to the Big Change campaign or volunteering at your local soup kitchen.
Another initiative is the suspended coffee. Inspired by the sospeso coffee in working class cafés of Naples, John Sweeney launched a social movement called Suspended Coffees in March 2013, which encourages cafés to offer an advance purchase of a hot drink which can be picked up later by someone in need.
The project quickly took off across the globe, and Manchester's café culture is no exception. Here are nine cafés across Greater Manchester where you can buy a suspended coffee.
Have we missed any out? Let us know at @CityLifeManc or in the comments section below and we'll add it to the list.
The Anchor Coffee House, Rusholme
Serving the reputable Monmouth coffee, The Anchor offers customers the chance to add a suspended coffee for an extra £2. The donation will go towards providing coffee, food and more through their community projects.
508 Moss Lane East, Manchester M14 4PA / anchorcoffee.co.uk
Starbucks, everywhere
The coffee giant signed up to the initiative back in 2013, and all their stores offer customers the chance to buy an extra coffee for someone in need.
starbucks.co.uk
Nexus Art Café, Northern Quarter
This subterranean community café can be found on Dale Street in the Northern Quarter, serving up a range of drinks and food, but you won't find alcohol here – it's designed to be a safe place for people to come and relax without the pressure of drinking.
2 Dale St, Manchester M1 1JW / nexusartcafe.com
Little Espresso Co, Manchester One
As well as trading at big festivals across the UK, the mobile coffee trader Little Espresso Co can be found at Manchester One on Portland Street from 7am to 2pm, Monday to Friday.
Manchester One, Portland Street / littleespressoco.com
Inspire Café, Levenshulme
Set inside the vibrant community centre Levenshulme Inspire, the café is open from Monday to Saturday, and hosts a range of community-led workshops.
747, Stockport Road, Levenshulme / lev-inspire.org.uk
Coffee Cranks Cooperative, across Manchester
On a mission to encourage more sustainable lifestyles and serve brilliant coffee, the Coffee Cranks Cooperative pop up at food fairs, festivals and events across the city.
coffeecrankscoop.org.uk
Home Community Café, Didsbury
This independent café in Didsbury is a local gem, hosting a range of workshops, fairs and events with a view to strengthen the local community.
Emmanuel Church, 6 Barlow Moor Road, Didsbury, Manchester, M20 6TR / homecommunitycafe.org
Deli Lama, Salford
It's not coffee, but at the Deli Lama customers can buy a suspended soup for someone in need for £3.
220 Chapel Street / @DeliLamaCafeBar
The Well, Rochdale
The Well supports homeless people by offering customers the chance to buy suspended food and drink. While there, people in need can also visit their Welcome Well to receive extra support.
11 Rhodes Crescent, Rochdale, OL11 2HP / thewellcc.org.uk
The MEN has pledged to support and publicise the Manchester Homelessness Charter at appropriate opportunities.
If you are affected by issues surrounding homelessness in any way, or if you want to do something to help, you can go to: streetsupport.net
---
Street Support is a network of charities, voluntary groups and kind-hearted folk, working together to end homelessness. Through this site you can find services for people experiencing homelessness, and offer your time and resources to local organisations.
---
Love Food Hate Waste
Your Food Waste Assistant
---
Freezer advice and facts
---
A MINDFUL APPROACH TO FOOD
The Mindful Breakfast Club
We welcomed our guests into the space with a selection of herbal teas and raw treats before getting comfortable for a short meditation with Rebecca Wilson from Transformational Retreats. Rebecca led us through a beautiful gratitude meditation and healing mantra, allowing us space to thank our bodies and be grateful for the food we were about to fill them with… and then came the food. On this month's menu was Avocado, Quinoa and Kale Fritters with a Cashew Hollandaise; Raw Date and Apple Bread with Almond Butter; Raw Cacao, Raspberry and Coconut Chia Pots; an alkalising green juice and a summer fruit salad of peaches and raspberries, with a sweet tahini drizzle.
The concept behind The Mindful Breakfast Club is that mindful eating is not just about making healthier food choices, it is about community, gratitude and taking time for you – to enrich our minds and souls, as well as our bodies. We believe that how we feel is intrinsically linked not only to what we eat but how we eat, the environment we are in and how we take care of ourselves. Our breakfast clubs offer a fantastic opportunity to connect more deeply with ourselves and strengthen our bonds with others, whilst enjoying seasonal foods that nourish us from the inside out.
Read more: https://mindfulvegankitchen.com/2016/08/07/the-mindful-breakfast-club/
https://www.facebook.com/themindfulkitchenmanchester/
---
Food Standards Agency pledges review of date marking guidance
On Wednesday 6 July, the Food Standards Agency partnered with Neighbourly to host a cross industry round table event entitled 'Addressing the challenges in food waste redistribution' which was attended by over 50 industry leaders. The purpose of the event was to understand how and where the FSA can initiate action, in particular in relation to date marking.
---
Growing Manchester Programme
Need support to help you and your project grow your own healthy, fresh and sustainable food?  Have access to some land for food growing but not sure where to start?  The 'Growing Manchester' programme could be just what you are looking for to help you and your project get started, or take your project to the next level!
The Food Futures 'Growing Manchester' programme supports new and existing community food growing projects to ensure that local people with an enthusiasm to grow can access the training and support their project needs to succeed.  We already support over 65 Manchester based growing projects and we are excited to open the Growing Manchester programme to invite TEN new groups from across the City to tap into the available expertise.  Groups will be welcomed onto the programme to join us in our autumn and winter course programme and crucially, to capitalise on the community development support to plan ahead for the next growing season.
'Sow the City' will be working with successful groups to manage and deliver our horticultural and environmental training, bringing the expertise to help your group at every stage in your vision to grow food and live sustainably.
So, if you are new to food growing or simply want to further develop your food growing project, why not check out the eligibility criteria and download your application form at the Food Futures website here:- http://www.foodfutures.info/www/
The closing date for receipt of new applications to Growing Manchester is Monday 8th August 2016 at 10am.  Spaces are limited and late submissions cannot be considered.
For more information or to submit your application form, please contact Lindsay Laidlaw, Project Manager, Public Health Manchester on l.laidlaw@manchester.gov.uk or 0161 234 3540.  
Please do feel free to share
---
Barakah Food Aid and fundraising at Manley Park
Manley Park Infants and Junior Schools in Whalley Range, Manchester, put together a week of activities in March 2015 and collected amazing food and cash donations.
Many items, raffle prizes donated kindly by local businesses helping in the community.
Barakah Food Aid.
For The People. By The People

---
Welcome to The Bite – your Love Food Hate Waste newsletter. We have some great features, recipes and tips for you this month.
Making an Olympic effort to reduce food waste?
During this Olympic summer, Love Food Hate Waste too is going global! Our theme ofMaking the Most of Every Mouthful explores what it takes to get our food from field to fork. Once we realise the true global cost of getting every plate of food served up, it becomes easier to realise the importance of making those little changes to help us make the most of every mouthful.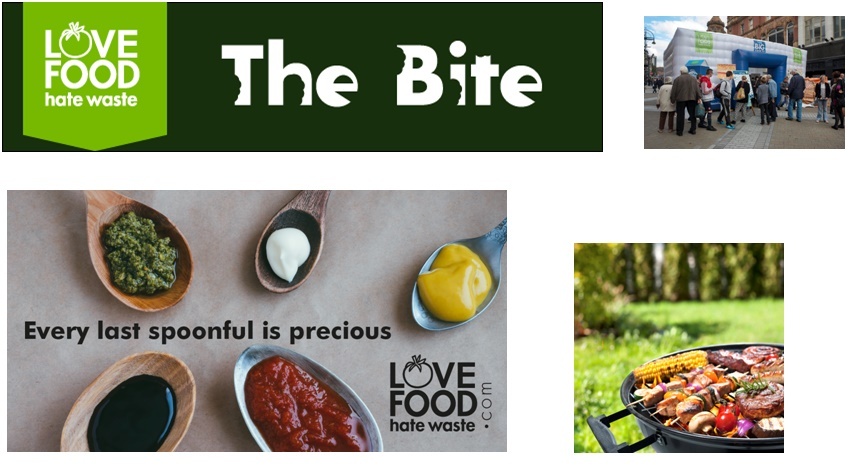 Ideas to help you move up the food waste medal table…Summer's here with its holidays and gatherings of friends and family.  Whether these will be around the BBQ or around the TV as we cheer on Team GB late into the night, here are a few ideas to make the most of every mouthful.Resist the temptation to go out and buy everything. You may well have a feast already in your cupboards, fridge or freezer and you can save a fortune by not buying specialist BBQ or party food.Here are some sneaky ways to re-purpose some of those bits and pieces that you were not quite sure what to do with:Stuff BBQ friendly veg such as beef tomatoes or peppers with that leftover portion of chilli or casserole that has been lurking in the freezer.Take tired bananas, make a slit in the skin and pop in some chocolate, wrap in foil and BBQ.Over ripe pineapple can have a makeover into a lovely tropical drinkMeat medley? Marinade meat that has been in the freezer for a while to give it some oomph before it's BBQed.Rack up those sauces! All sort of herbs, spices from the spice rack and storecupboard standards can be used to make your own adventurous sauces or add a personal twist to a shop bought one.On track for snacks?Our party planner helps by suggesting the amounts you may need to provide.  Bite sized foods are perfect for nervous nibbling whilst watching the games and another way to use up leftovers so instead buying in snacks, take a look at our mini party pizzas for ideas.  Make your own dips by using up the items in the fridge door – add curry powder to mayo, mint to yogurt or paprika to ketchup.Get inspired by looking at the party food finder in therecipe section.
Tip of the MonthLeftover foods such as fruit and yogurt can make lovely smoothies – but how about left over veg and party drinks?  Here's a tip from Zena from Norwich – Juice carrots with a touch of ginger, add ginger ale, lemonade, lime or coconut milk for an exotic, zingy drink.
Summer RecipesGorgeous BBQ Chilli & Pineapple Spare-ribs
These cheap cuts of meat are transformed with ingredients that are often found in the cupboard – it's time to use that tin of pineapple!
Chicken and Bacon Skewers with Chinese Dip
A tasty party snack with an oriental flavour with an easy to make sauce.
Crostini with tomato jam  a perfect example of fab finger food made from things that might have been destined for the bin…
We're heading to CountryFile Live!Love Food Hate Waste's Big Freeze is excited to be at CountryFile Live at Blenheim Palace next week (4th – 7thof August).  You'll find us in the middle of the Village Green offering super cool freezing hints and tips. Come find us!www.countryfilelive.comLove Food Hate Waste is now on Instagram! Insta with us @lfhw_ukThanks for reading!
Useful Links
Keep it Fresh
YOUR FREE GUIDE on vegetable storage!
How to keep vegetables as fresh as possible for as long as possible
---
Dairy Council: downloadable guides
The 4 Bring it Back Postcards, Bring Back Breakfast, Bring Back the Hot Milky Drink, Bring Back Puddings and Bring Back Snacks, are part of the materials available to support older people who may be at risk of malnutrition and not eating or drinking enough for their needs. The postcards feature traditional designs on the front and recipes/charts on the reverse. Available in sets of 40 cards (10 x 4 designs)
http://www.milk.co.uk/publications/default.aspx
The Bring it Back information leaflet is part of The Dairy Council campaign on elderly malnutrition.It looks at who may be most at risk, signs to look out for and getting older people who are losing weight to think about what they eat, when they eat, who they eat with and to get them to ask for help.
http://www.milk.co.uk/publications/default.aspx
Age UK: Eating the right things should be easy, but also fun. Let us guide you through the maze of food choices to ensure you have a healthy diet.
 http://www.ageuk.org.uk/health-wellbeing/healthy-eating-landing/
---
Food Projects:
Feeding Manchester: This website was conceived after sustainable food groups and businesses from across Greater Manchester came together in the summer of 2009 to explore ways of overcoming the many challenges of creating a more sustainable food system for our City. At the meeting it became clear that a 'one-stop-shop' for Greater Manchester's sustainable food movement would be an invaluable tool. http://www.feedingmanchester.org.uk/
Abundance Manchester is a project which aims to harvest surplus or unwanted fruit from gardens and public trees around South Manchester and distribute it to local groups and communities who need it. We also collect and distribute surplus vegetables from allotments and we have started our own Abundance allotment to grow our own fruit and vegetables to donate to groups who can make good use of it. http://abundancemanchester.wordpress.com/2014/09/
_______________________________________________
St Margaret's Centre and Playing Fields is a non-profit organisation and was set up as a charity to benefit the people of the parish of St Margarets, over the years we have extended that to include the whole of Whalley Range and its neighbours in Moss Side and Old Trafford.
The centre is based on Brantingham Road in Whalley Range, Manchester. We are committed to continuing the vision of benefitting the people of the area through our programme of activity.
The Bread Project and Forever Garden

St Margaret's Centre Projects over the next year will focus on
Developing the Bread Project info a broader Food project which will aim to address food poverty issues in the local area.
A Heritage project looking at Peace in time of War
http://www.st-margarets-centre.co.uk/
__________________________________________
About Sustainable Food Cities
We are passionate about towns and cities taking a joined up approach to food and want to help public agencies, NGOs, businesses and communities to work together to make healthy and sustainable food a defining characteristic of where they live.
http://sustainablefoodcities.org/about
http://www.foodfutures.info/www/
http://www.kindling.org.uk/projects
Chorlton Cooks on YouTube:
https://www.youtube.com/user/chorltoncooks/videos
The Real Junk Food Project – Leeds
The Real Junk Food Project started in Leeds, with Adam Smith and an equally amazing group of people. The Real Junk Food Project built a cafe, a pay-as-you-feel concept, and a food waste revolution. The project was money poor and amazingly energy rich. You can find out more about the original pay-as-you-feel cafe in Armley, Leeds by checking out;
web:
http://www.therealjunkfoodproject.co.uk/
facebook:
https://www.facebook.com/TheRealJunkFoodProject
twitter:
@RealJunkFood
Cracking Good Food
Cracking Good Food is a Manchester-based cookery school and community cooking network. They are a social enterprise who promote cooking from scratch using sustainable and seasonal ingredients. As well as open-to-all courses, they work with local organisations and community groups to deliver cooking sessions geared towards specific needs, such as nutrition and budget requirements. In the last four years they have worked with over 60 different organisations and community groups.
web:
http://www.crackinggoodfood.org/
facebook:
https://www.facebook.com/crackinggoodfood
twitter:
@CrackingFood
FareShare Greater Manchester
FareShare fights hunger and tackles food waste by redistributing surplus food to 1,200 charities across the UK. FareShare Greater Manchester distributes over 300 tonnes of food every year including 'rescued' surplus fruit and vegetables from New Smithfield Market. FareShare volunteers deliver to 100+ Community Food Members in the region. The Community Food Members provide vitally needed meals to thousands of disadvantaged people every week.
web:
http://www.fareshare.org.uk/regional-centres/greater-manchester/
facebook:
https://www.facebook.com/FareshareGreaterManchester
twitter:
@FareShareNW (soon to be @FareShareGM)
Feeding the 5000 is a campaign that aims to empower and inspire the global community to enact positive solutions to the global issue of food waste. We work with governments, businesses and civil society at the international level to catalyse change in social attitudes and innovative solutions necessary to tackle food waste at the global scale. We are behind Feeding the 5000 events around the world, Gleaning Network UK, and The Pig Idea.
web:
http://www.feeding5k.org/
facebook:
https://www.facebook.com/feeding5000
twitter:
@Feeding5k
THE FRACK FREE FOOD ALLIANCE
Farmers, Producers, Fishers, Foodies and Consumers UNITED in opposition to Unconventional Oil & Gas Drilling in Britain & Ireland.
Our most precious resources, pure water, clean air and uncontaminated soil are at risk from unconventional oil & gas (UO&G) industrialisation. To supply the amount of UO&G that industry is bragging about to its shareholders, tens of thousands of wells would be required across Britain. The FFFA aims to share information about the effect of fracking on agriculture, livestock health, food and farming.
web: http://www.britainirelandfrackfree.co.uk
facebook:https://www.facebook.com/TheFrackFreeFoodAlliance
twitter: https://twitter.com/FrackFreeFood