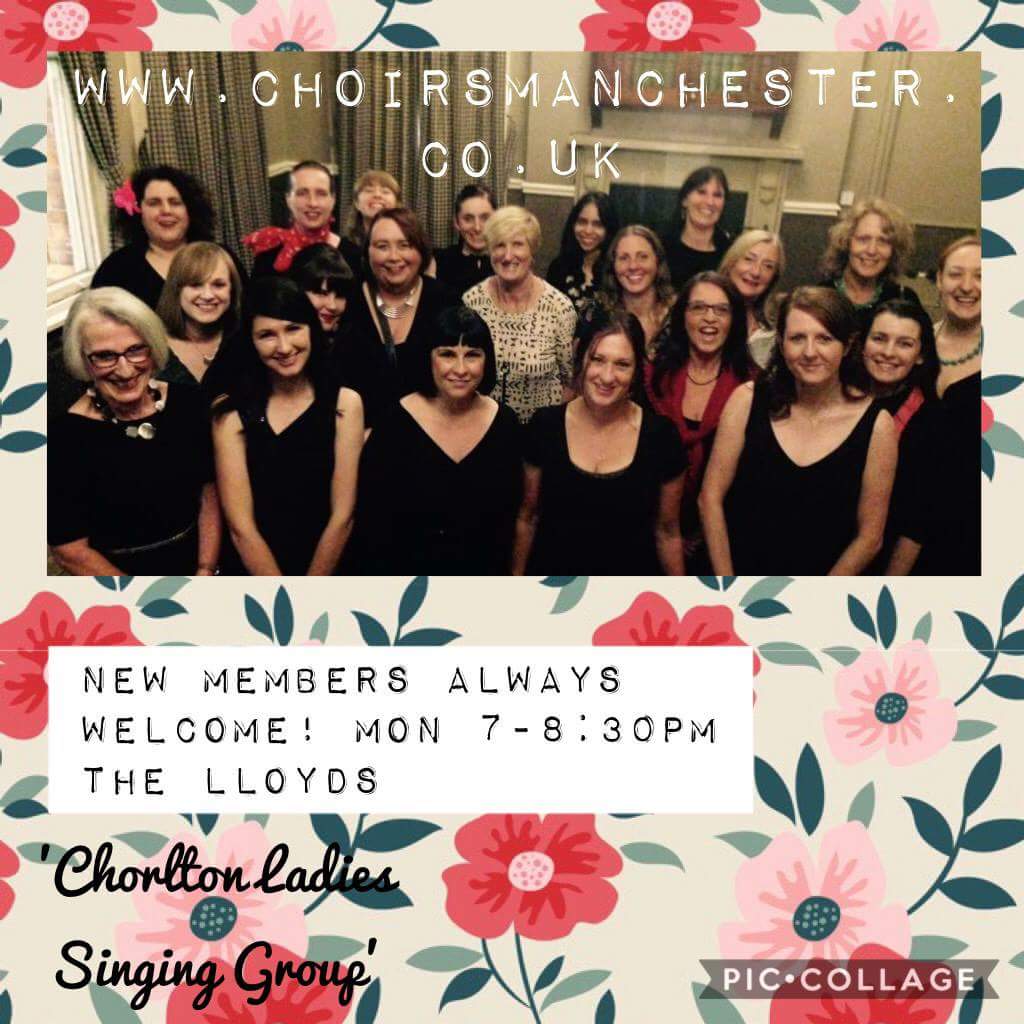 The Adult Education team works with organisations and community groups in Greater Manchester who support people that are facing higher risks of needing first aid in particular crises, including:
>     People living with issues around drug and alcohol usage.
>     People who are homeless or rough sleepers and at risk of injury or sudden illness
>     Adults over 65 who are at more risk of slips, trips and falls.
Our sessions have had all of the technical/clinical language removed to ensure that it is easy to learn and therefore easy to remember in an emergency situation. Each session is designed to meet learners' needs and is tailored to the environment the learner will be in.
What can you expect from our first aid session?
>     Effective, easy to learn first aid education in a relaxed and informal style.
>     Fully funded – there is no cost to you.
>     Provide relevant first aid skills tailored to the needs of the group.
>     Break down the barriers to helping others.
>     Build the confidence and willingness to help in a first aid emergency.
>     Typically last 2 hours, but flexible depending on number of skills taught.
>     Suitable for groups of up to 15 people.
>     Participants will receive a pack that covers the skills learned and will be awarded a certificate of learning upon completion.
>     Delivered at your venue.
To book a session for your group please complete the attached enquiry form and we will look to confirm a date.
The last page lists the skills, and I would like you to discuss the skills list with the group and choose a selection of 2 – 5 skills prior to the training.
Kind regards,
Hyacinth Lightbourne
Adult Education Coordinator, Everyday First Aid
Manchester, South and Central
0161 888 8902
07545 502079
Internal 13712
If you'd like to help us to continue to offer free first aid sessions to people most at risk of accidents and emergencies then please text RCFA99£1, RCFA99£5 or RCFA99£10 to 70070 to donate £1, £5 or £10 respectively.  You will be charged for the cost of a normal text plus your donation. 100% of the donation goes to the British Red Cross.  We will never sell on your mobile number. 
https://www.justgiving.com/BRCteachfirstaid to donate by credit card
Endorsement for our courses:
 " The course has helped to build my confidence and I am certain that should an emergency arise I would step in to help"
This email is for the intended recipient only. It may contain information that is privileged, confidential and/or subject to copyright. If you are not the intended recipient, please delete this email and any attachments immediately. You may not present this message or any part of it to another party without consent from the sender.

Although the British Red Cross has taken steps to ensure this email and any attachments are virus-free, we do not accept any responsibility for viruses, or for inaccurate or incomplete information or failure to deliver information. It is your responsibility to scan the email and any attachments to ensure they are virus-free.

The British Red Cross may monitor the content of emails sent or received by its employees.

The British Red Cross Society, incorporated by Royal Charter 1908, is a charity registered in England and Wales (220949), Scotland (SC037738) and Isle of Man (0752).

The red cross emblem is a protective symbol, the use of which is restricted by international and national law. It may not be reproduced without prior authorisation. For more information, about the emblem, please go to

www.redcross.org.uk/About-us/Who-we-are/The-international-Movement/The-emblem.

If you need to contact the British Red Cross, please go to

www.redcross.org.uk/About-us/Contact-and-help/Contact-us and select the best option for you.

CREATIVE WRITING CLASSES 
Want to write but don't know where to start?
Used to write but lost the love?
Or maybe you just need to make some progress on that work in progress?
Join experienced writer Nicola Mostyn for these supportive, relaxed writing classes designed to get your creativity flowing. There's no critiquing, no scary reading out, just getting words down on the page, building your confidence and nurturing your relationship with your creativity.
Classes include:
Creative Writing PRACTICE – build your confidence, meet like-minded people and get hundreds of words down on the page.
Creative Writing FOCUS – each month we'll deal with a new subject, from finding inspiration to writing dialogue, creating believable characters, maintaining motivation, how to pitch out your work and more.
Classes take place at various venues in Chorlton and are currently running on Tuesday afternoons and Thursday evenings.
Visit www.nicolamostyn.com for more info and to book
Find me on facebook at www.facebook.com/nicolamostynauthor/
Or contact me at nicolamostyn@gmail.com if you'd like a chat about whether these classes are suitable for you.
---
 
---
See also sports, fitness & gentle exercise…
---

---
Whalley Range Community Forum
Term time classes and activities at JNR8
 
Talk English 
Monday 10 -11:30 am
Male/Female Residents with low-level English
---
Tai Chi
Monday 1:30-2:30
Local residents, all ages + abilities
---
Women's ESOL Practical
Tuesday 10-11am
Women with low-level English skills
Women's ESOL Computer class
Tuesday 11-am
Women with low-level English skills: access to free online practice ESOL courses
Finding your Confidence and Motivation for getting into
Work, Training and Volunteering 
Tuesdays from 1-3pm  – Back again in March 2018!
Jobseekers and people moving from benefits and back into Work, Training and Volunteering
---
Keep Fit for Women only (female instructor)
Weds 10-11am
---
Afternoon Tea
Wednesdays 2-3pm
Age-friendly Whalley Range: www.whalleyrange.org/category/agefriendly/
Local older residents, community events, older people's food project, newsletter,
---
Generating Opportunities:

New classes starting again 27th April
Basic Computer class 10-11am
Job search workshop 11-1pm
Thursdays 10-1pm
Local jobseekers
---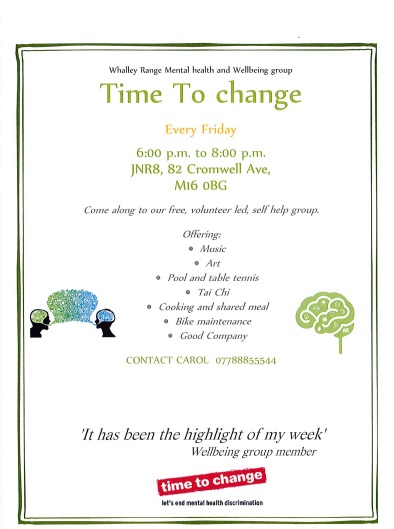 Time to Change Whalley Range Mental Wellbeing group social group
Fridays 6-8pm
www.whalleyrange.org/whalley-range-mental-health-group/
WRCF Advice/Drop in Local residents Call 0161 881 3744
Hate Crime 3rd Party Reporting – 0161 881 3744
www.whalleyrange.org/third-party-hate-crime-reporting-centres/
---
OPEN VOICE Community Choir (South Manchester)
Open Voice is an friendly open choir of about 50 members. We sing songs from all over the world in a capella harmony. Occasional gigs but no pressure to perform.
We sing at Community events, charities, for causes and in protest.
No experience necessary!
Whether you are a seasoned singer or you only sing in the bath …
Sing in harmony – songs from all over the world -African, Eastern European.  Songs of protest, freedom, songs to uplift.
Relax, unwind & let it all hang out, in a friendly, warm, fun atmosphere.
WHEN?    Wednesday eves at 7:30 -9pm, term time. Term starts back on Sept 7th '16 but you can drop in any term week
WHERE?  The beautiful old St Margaret's church, corner of Rufford Rd/Whalley Rd,
Whalley Range, Manchester M16 8AE
COST?     Pay per half term (cheaper) or can just drop in any evening for £5. Concessions too.
We sing at Community events, charities, for causes and in protest.
Any money we get for paid gigs goes to Duncan Gibbon's charities –  A street shelter for children in San Luis, Argentina and the World Land Trust, specifically to save rainforest in Argentina.  Duncan Gibbon was my son's best friend -a fabulous young man of extraordinary kindness, confidence and charisma, who died in an accident over the 2010 Xmas period  aged 21. These causes are all close to his heart.
'You can because you think you can' Duncan Gibbon
http://carol-donaldson-music.co.uk/choirs-singing-workshops/
---