Free Awareness sessions & Cervical screening survey Manchester
My name is Sadia Habib and I am the Manchester Public Health Engagement Coordinator at Jo's Cervical Cancer Trust. I am contacting you regarding the free service we offer in Manchester to ultimately help save lives and about a crucial piece of research we are conducting:
Cervical screening is at a 20 year low, with less women attending for their smear tests than ever before. It is therefore, vital that we engage with the public to raise awareness of cervical cancer. It is also important to raise awareness amongst Black, Asian and Ethnic Minority (BAME) communities as research shows that women from these communities are less likely to attend for their smear test.
1)    We are conducting research into barriers to cervical screening (smear testing) on behalf of Manchester Clinical Commissioning Group. We are looking for BAME women, from any part of Manchester, of eligible screening age (24 years to 64 years) to take part in an online survey which will take no longer than 10-15 minutes to complete. If you would like a paper version of the survey please let me know.
I would be most grateful if you can forward the survey below to your clients/service users or assist them in completing this survey. The survey provides full anonymity. There is also a chance to win a £50 shopping voucher.
https://www.surveymonkey.co.uk/r/NManchester?mc_cid=5a9a1104e1&mc_eid=3b2c6ccbfb
2)    We offer free, interactive awareness sessions about cervical cancer and screening. If you have a group of women who would highly benefit from such sessions, or have an event where you would like for us to hold an information stand, or involve us in any relevant activity that would help raise awareness, please do not hesitate to contact me.
3)    We are also recruiting community volunteers in Manchester to help raise awareness. If you know anyone who would like to gain health promotion skills and be fully trained and supported please guide them to this link: https://www.jostrust.org.uk/support/volunteer-for-jo-s/volunteering-for-jo-s/cervical-cancer-community-volunteer
If you have any questions or require more information, please get in touch. Please accept my apologies in advance if this email lands in your inbox again via any networking contacts who are helping in disseminating these messages. If you do not wish to receive any emails from me, please do let me know.
Kind regards
Sadia Habib
Public Health Engagement Coordinator (Manchester)
---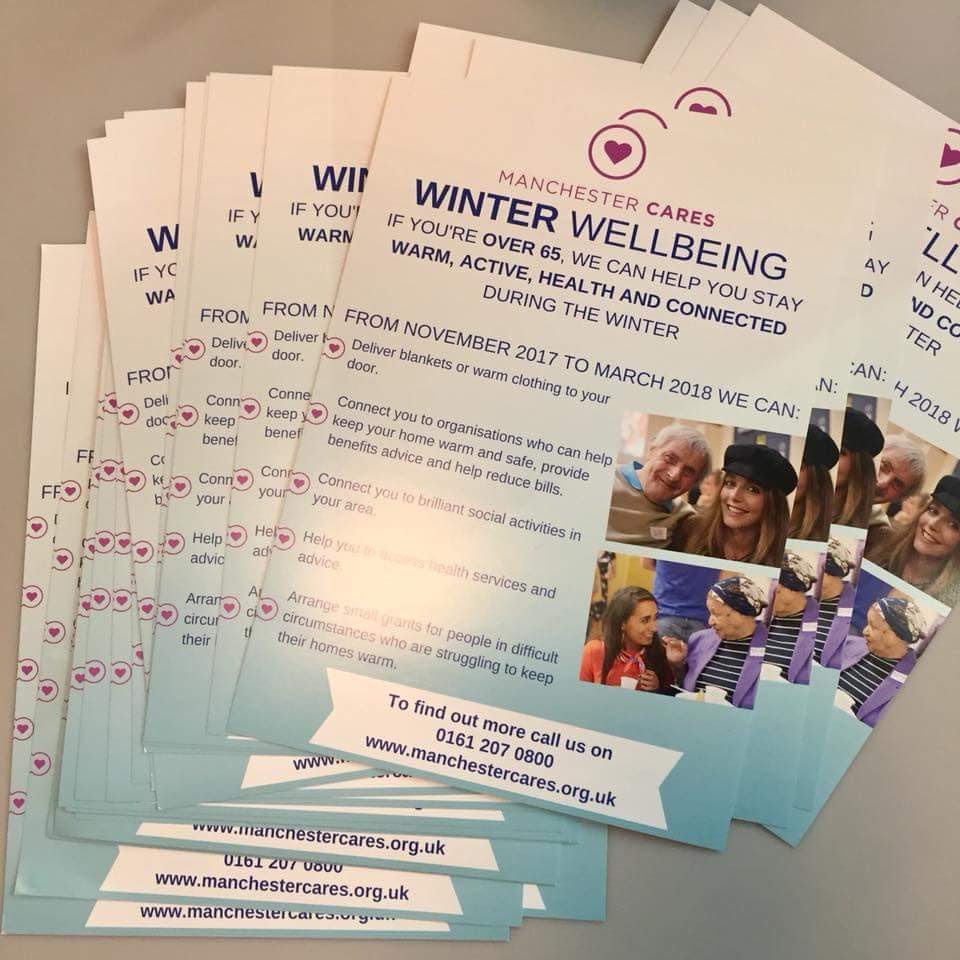 A community network of young professionals and older neighbours hanging out and helping one another in our rapidly changing city.
Find out more at:
https://manchestercares.org.uk/home
---
Manchester Health and Care Commissioning (MHCC) formed on 1 April 2017.  It is a partnership between Manchester City Council and NHS Manchester Clinical Commissioning Group.
The organisations came together to ensure a more joined up and effective approach to commissioning health and social care services for the people of Manchester.
NHS Manchester Clinical Commissioning Group (NHS Manchester CCG) also formed on 1 April 2017, as a result of NHS North, Central and South Manchester Clinical Commissioning Groups merging.
MHCC will be working hard to create A Healthier Manchester, which you can find more about  by visiting the Healthier Manchester website www.healthiermanchester.org.
You can also find out more about the individual organisations that make up the MHCC by following the links below to their websites:
www.manchesterccg.nhs.uk 
www.manchester.gov.uk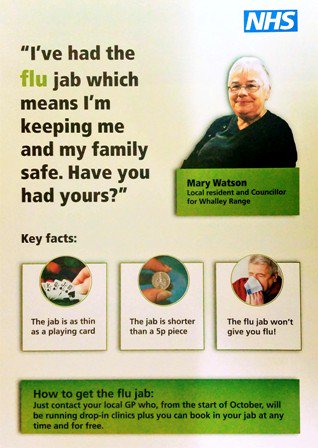 The flu jab
Flu vaccination is available every year on the NHS to help protect adults and children at risk of flu and its complications.
Flu can be unpleasant, but if you are otherwise healthy it will usually clear up on its own within a week.
However, flu can be more severe in certain people, such as:
anyone aged 65 and over
pregnant women
children and adults with an underlying health condition (such as long-term heart or respiratory disease)
children and adults with weakened immune systems
Anyone in these risk groups is more likely to develop potentially serious complications of flu, such as pneumonia (a lung infection), so it's recommended that they have a flu vaccine every year to protect them.
The injected flu vaccine is offered free on the NHS annually to:
adults over the age of 18 at risk of flu (including everyone aged 65 and over)
pregnant women
children aged six months to two years at risk of flu
Find out more about who should have the flu jab.
65 and overs and the flu jab
You are eligible for the flu vaccine this year (2017-18) if you will be aged 65 and over on March 31 2018 – that is, you were born on or before March 31 1953. So, if you are currently 64 but will be 65 on March 31 2018, you do qualify.
Where to get the flu jab
You can have your NHS flu jab at:
your GP surgery
a local pharmacy offering the service
your midwifery service if they offer it for pregnant women
Some community pharmacies now offer flu vaccination to adults (but not children) at risk of flu including pregnant women, people aged 65 and over, people with long-term health conditions and carers.
If you have your flu jab at a pharmacy, you don't have to inform your GP – it is up to the pharmacist to do that.
How effective is the flu jab?
Flu vaccine is the best protection we have against an unpredictable virus that can cause unpleasant illness in children and severe illness and death among at-risk groups, including older people, pregnant women and those with an underlying medical health condition.
Studies have shown that the flu jab will help prevent you getting the flu. It won't stop all flu viruses and the level of protection may vary, so it's not a 100% guarantee that you'll be flu-free, but if you do get flu after vaccination it's likely to be milder and shorter-lived than it would otherwise have been.
There is also evidence to suggest that the flu jab can reduce your risk of having a stroke.
Over time, protection from the injected flu vaccine gradually decreases and flu strains often change. So new flu vaccines are produced each year which is why people advised to have the flu jab need it every year too.
Read more about how the flu jab works.
Flu jab side effects
Serious side effects of the injected flu vaccine are very rare. You may have a mild fever and aching muscles for a couple of days after having the jab, and your arm may be a bit sore where you were injected.
Read more about the side effects of the flu jab.
When to have a flu jab
The best time to have a flu vaccine is in the autumn, from the beginning of October to early November, but don't worry if you've missed it, you can have the vaccine later in winter. Ask your GP or pharmacist.
The flu jab for 2017/18
Each year, the viruses that are most likely to cause flu are identified in advance and vaccines are made to match them as closely as possible. The vaccines are recommended by the World Health Organization (WHO).
Most injected flu vaccines protect against three types of flu virus:
A/H1N1 – the strain of flu that caused the swine flu pandemic in 2009
A/H3N2 – a strain of flu that mainly affects the elderly and people with risk factors like a long term health condition. In 2017/18 the vaccine will contain an A/Hong Kong/4801/2014 H3N2-like virus
Influenza B – a strain of flu that particularly affects children. In 2017/18 the vaccine will contain B/Brisbane/60/2008-like virus
The nasal spray flu vaccine and some injected vaccines also offer protection against a fourth B strain of virus, which in 2017/18 is the B/Phuket/3073/2013-like virus.
Is there anyone who shouldn't have the flu jab?
Most adults can have the injected flu vaccine, but you should avoid it if you have had a serious allergic reaction to a flu jab in the past.
Read more about who shouldn't have the flu vaccine.
You can find out more by reading the answers to the most common questions that people have about the flu vaccine.
Flu Jabs at KPS.
Kapoor Pharmacy Services, a small chain of Independent Community Pharmacies with branches in Chorlton and Whalley Range.
What is seasonal flu?
Seasonal flu occurs every year, usually in the winter. It's a highly infectious disease caused by a number of flu viruses.
What harm can seasonal flu do?
People sometimes think a bad cold is flu, but having flu can be much worse than a cold and you may need to stay in bed for a few days if you have flu. Some people are more susceptible to the effects of seasonal flu. For them it can increase the risk of developing more serious illnesses such as bronchitis and pneumonia, or can make existing conditions worse. In the worst cases, seasonal flu can result in a stay in hospital, or even death.
Seasonal flu jab
The flu jab helps to protect you against seasonal flu. As with all vaccines this vaccination may not fully protect all persons who are vaccinated.
When a person is given the flu jab, the immune system (the body's natural defence system) will produce its own protection (antibodies) against the disease.
None of the ingredients in the vaccine can cause flu. Flu is a disease that can spread rapidly and is caused by different types of strains that can change every year. This is why you are offered a flu jab every year. The greatest risk of catching flu is during the cold months between October and March. If you were not given a flu jab in the autumn, it is still sensible to be vaccinated up until the spring since you run the risk of catching flu until then.
The seasonal flu jab will protect you against the strains of virus contained in the vaccine from about 2 to 3 weeks after the injection. The incubation period for flu is a few days, so if you are exposed to flu immediately before or after your vaccination, you could still develop the illness.
 The flu jab will not protect you against the common cold, even though some of the symptoms are similar to flu.
Want the NHS #flujab but not keen on waiting for an appointment? Manley and Wilbraham pharmacies will be able to give the jab there & then #thinkpharmacy
Call 0161-881-2022 to book your Flu jab.
We are open Monday to Friday:- 8.30am to 6.30pn and Saturdays:- 9am to 12pm
Welcome to the November 2017 Bulletin from Healthwatch Manchester 
Your Voice Counts –
Leave your feedback on our website 
Our Feedback Centre enables local people to provide practitioners with feedback on their service. This means that GPs, dentists, opticians, hospitals, and many other services can gain an immediate understanding of their service users' experience. To find a service, or leave feedback, go to 
www.healthwatchmanchester.co.uk
.
Our Manchester Sexual Health Services Review – Access & Availability
The 14th November sees the launch of our sexual health survey around access and availability. If you've visited a sexual health centre in Manchester in the past month we want to hear about your experience and you can tell us by clicking here. Look for our printed surveys and posters in the waiting areas of our Manchester Sexual Health Centres.
Call for Leg Ulcer Research Contributions
The Wounds Research Group at the University of Manchester is setting up a Patient and Public Involvement forum to help guide their research on treating and preventing leg ulcers.
They would like to hear from you if you have, or have previously had, a leg ulcer or if you care for someone affected by this condition.
For more information please click here
Greater Manchester Mental Health Trust is seeking new Members
As a member of the Trust you will receive information about the Trust, be asked if you would like to take part in elections, surveys and consultations or even attend events such as the Annual Members Meeting.
Membership is free and the level of involvement as a member of the Trust is your choice. Public, service user and carer members of the Trust will be able to use NHS discounts and get offers and discounts from thousands of retailers. For more information click here
The Men's Rooms are Recruiting
They have two roles available :
Outreach & Engagement Officer
3 Year Contract – Part Time 4 days per week (30 Hours)
Salary: £23,000 FTE (£18,400 actual)
Volunteer Coordinator
3 Year Contract – Part Time 2.5 days per week (18.5 Hours)
Salary: £23,000 FTE (£11,500 actual)
Deadline for Applications: 12:00pm (Noon) Tuesday 5th December
Interviews: Week commencing Monday 18th December.
For more information and detailed job descriptions, person specifications and application form are available on The Men's Room website here 
Anti-depressants & Older People – your input requested
The Manchester Centre for Health Economics at the University of Manchester is planning a study to explore how medicines to treat depression (antidepressants) are best used in older people.
They are looking for members of the public to have some input into their plans before they start the research.
They would especially like to hear from you if you have been affected by depression, or take many medications for different health conditions, or if you have experience of caring for someone with depression. The research will focus on people over 65 years old.
For more information please click 
here
Manchester Healthcare Poll
Healthwatch Manchester collects the views, opinions, and experiences of local people. As the government funded champion for health and care we use them to improve health and care services in Manchester by passing them on to the right people. Our Manchester health care poll aims to provide us with a summary of this information. On a monthly basis we'll use the poll results to send out a snapshot of your ongoing experiences. Take part by completing our simple single question poll.
Hospital Journeys for Learning Disabled Patients -2 Sites Review
Our latest report highlights the experiences of learning disabled patients in two of our Manchester Hospitals: North & Central. Participants were recruited from our learning disabled communities to take part in reviews of the patient journey from reception through to three outpatient services:
Phlebotomy
Orthopaedics
Hydrotherapy
For more information and to view the report click here
Volunteer with Healthwatch Manchester and help to make a difference to Health and Social Care in your area. We are particularly on the look out for Polish, Hungarian, and Urdu speaking volunteers to join our new lottery-funded Outreach Programme, so that these local voices can be heard.
Making Manchester better
---
The Wounds Research Group at the University of Manchester is setting up a Patient and Public Involvement forum to help guide our research on treating and preventing leg ulcers.
We would like to hear from you if you have, or have previously had, a leg ulcer or if you care for someone affected by this condition.
We want our research to focus on issues that are important to you and be conducted in way that is clear and acceptable. The aim of the forum is to allow us to meet you and talk about your experiences, thoughts and views to help guide our research.
Being involved is very flexible and we will not ask you to commit in any way that does not suit you. For example, you may wish to be involved on a short-term or one-off basis, or you may want to be involved for a longer period of time. We are able to contact you by your preferred means, such as by post, phone, email, Skype or face-to-face. Please note that taking part does not necessarily mean that you will be required to attend regular meetings. You will be reimbursed a small amount for your time and any travel expenses you may have.
If you interested or would like more information about being involved, please contact Ross Atkinson as follows:
Email – ross.atkinson@manchester.ac.uk
Telephone – 0161 306 7661 or 07737 996 255.
Post –
Ross Atkinson (Research Fellow)
Division of Nursing, Midwifery and Social Work,
5.332 Jean McFarlane Building,
University of Manchester,
Oxford Road,
Manchester,
M13 9PL
---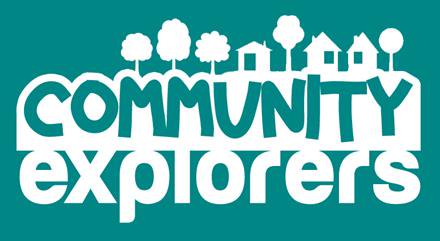 ---
MICRA Diet and eye health study
Optometry researchers at the University of Manchester are seeking participants for research which examines the link between diet and eye health as we age.
The study is recruiting volunteers aged 40-70 years old with normal vision and good general health
If you would like to be contacted please get in touch with the study team: email Laura Patryas or Elena Rodrigo, or call 0161 306 3878
---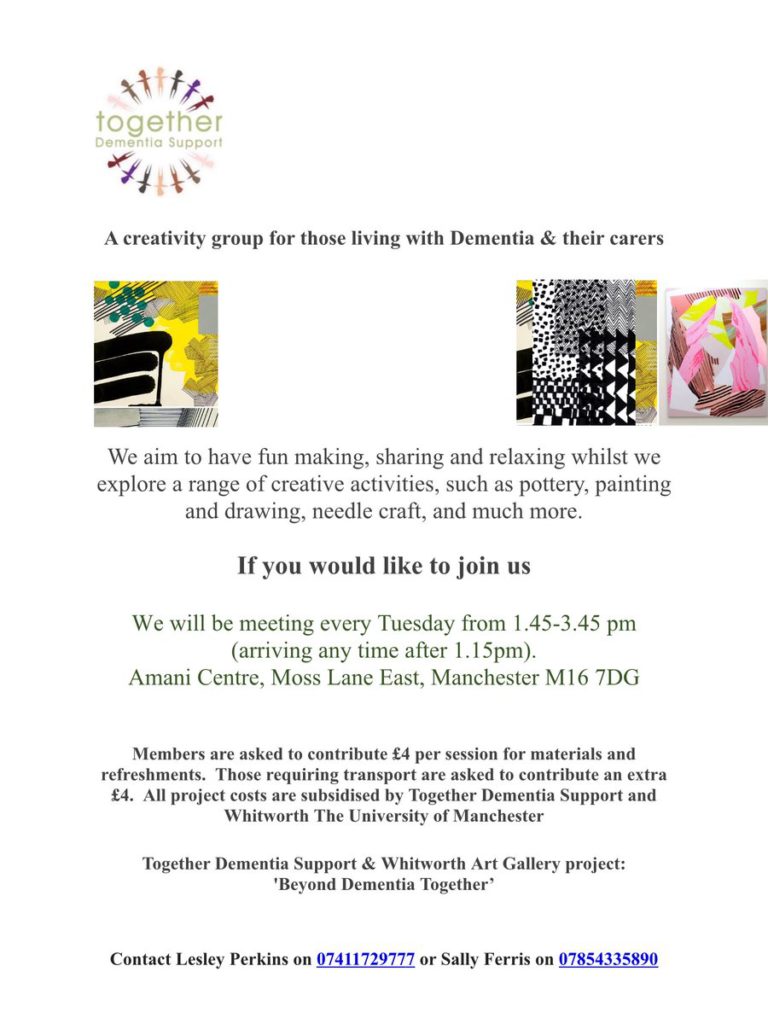 ---
The Adult Education team works with organisations and community groups in Greater Manchester who support people that are facing higher risks of needing first aid in particular crises, including:
>     People living with issues around drug and alcohol usage.
>     People who are homeless or rough sleepers and at risk of injury or sudden illness
>     Adults over 65 who are at more risk of slips, trips and falls.
Our sessions have had all of the technical/clinical language removed to ensure that it is easy to learn and therefore easy to remember in an emergency situation. Each session is designed to meet learners' needs and is tailored to the environment the learner will be in.
What can you expect from our first aid session?
>     Effective, easy to learn first aid education in a relaxed and informal style.
>     Fully funded – there is no cost to you.
>     Provide relevant first aid skills tailored to the needs of the group.
>     Break down the barriers to helping others.
>     Build the confidence and willingness to help in a first aid emergency.
>     Typically last 2 hours, but flexible depending on number of skills taught.
>     Suitable for groups of up to 15 people.
>     Participants will receive a pack that covers the skills learned and will be awarded a certificate of learning upon completion.
>     Delivered at your venue.
To book a session for your group please complete the attached enquiry form and we will look to confirm a date.
The last page lists the skills, and I would like you to discuss the skills list with the group and choose a selection of 2 – 5 skills prior to the training.
Kind regards,
Hyacinth Lightbourne
Adult Education Coordinator, Everyday First Aid
Manchester, South and Central
0161 888 8902
07545 502079
Internal 13712
If you'd like to help us to continue to offer free first aid sessions to people most at risk of accidents and emergencies then please text RCFA99£1, RCFA99£5 or RCFA99£10 to 70070 to donate £1, £5 or £10 respectively.  You will be charged for the cost of a normal text plus your donation. 100% of the donation goes to the British Red Cross.  We will never sell on your mobile number. 
https://www.justgiving.com/BRCteachfirstaid to donate by credit card
Endorsement for our courses:
" The course has helped to build my confidence and I am certain that should an emergency arise I would step in to help"
---
---
Hello!
We're buzz…the new Manchester Health & Wellbeing Service.
Our aim is simple…to help improve the health and wellbeing of people and communities in Manchester…to help individuals and families live fuller, healthier, happier and longer lives.
Here at buzz, we're a hive of activity. As experts in health improvement and self-care, we have the knowledge and expertise to offer the right advice and guidance to help put a spring into people's lives.
Our neighbourhood health workers will be busy working in the heart of the community. We'll also be offering one to one support, training and working alongside other key health initiatives and partners in the area.
We're buzz… your healthy buzz…your Manchester Health & Wellbeing Service.
https://www.buzzmanchester.co.uk/

---
Flu and you…
Have you had your flu jab?
Our fab poster was co-designed by residents, Modeled by Councillor Mary Watson 🙂
Contact us for one to display at your venue (A3)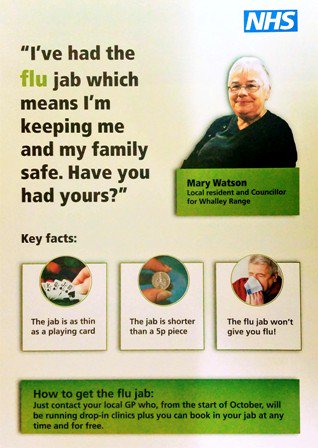 For more details on the flu vaccine please follow these links:
https://www.gov.uk/government/uploads/system/uploads/attachment_data/file/543624/PHE_9901_Flu_Vaccination_A5_booklet_Winter2016_17.pdf
http://www.nhs.uk/conditions/vaccinations/pages/who-should-have-flu-vaccine.aspx
---
22nd November saw the official launch event of 'buzz', pictured above.  Their aim is simple: to help improve the health and wellbeing of people and communities in Manchester, helping individuals and families live fuller, healthier, happier and longer lives.  Their neighbourhood health workers are busy working in the heart of communities, helping to develop age-friendly networks across Manchester.
As experts in health improvement and self-care, they have the knowledge and expertise to offer the right advice and guidance to help put a spring into people's lives offering one to one support, training and working alongside other key health initiatives and partners in the area.
---
Newsletter
Our monthly update for everyone interested in health and social care
Diabetes care review launched
We've published a review of community diabetes care across England. My diabetes, my care looks at people's experiences of diabetes care and the support they are given to self-manage their condition.
#CaringAcrossGenerations
Did you know that CQC can help you to choose care for a loved one? Our new campaign, Caring Across Generations, lets you know how you can use our reports and information to help guide this important life decision.
Date for your diary: State of Care
On October 13, we'll publish State of Care, our annual overview of health and social care in England.
The report gives our independent overview of the state of care in England, reflecting on what we've found over the past year.
First outstanding ratings for mental health trusts
Northumberland, Tyne and Wear NHS Foundation Trust and East London NHS Foundation Trust have become the first NHS mental health trusts in England to be awarded overall ratings of outstanding.
Protecting your privacy
We've updated the code of practice that our staff follow to access, handle, share and use confidential personal information.
We've also produced a leaflet on how we protect your privacy when using information.
Did you know: Duty of candour
Did you know there's a legal duty for all providers of health and care services to be open and honest with people when things go wrong that could cause them harm? We've endorsed a leaflet from Action Against Medical Accidents (AvMA) that explains what this means for you.
Need advice on how and when to use NHS services?
The Choose Well Manchester website offers advice about how and when to use NHS services.
---
Research for the Future and the 'Help BEAT' campaigns is an NHS supported campaign to encourage people to get more involved with health research in their local area. Current campaigns are Help BEAT Diabetes; Help BEAT Heart Disease and Help BEAT Respiratory Disease. If you are over the age of 18 and have one or more of these conditions, you are welcome to join.
You can find out more about the Help BEAT campaigns and sign up online or alternatively text research and your name to 81400 (standard text rate) or telephone the team on 0161 212 5574.
For further health and support information from a range of partners, including dementia, carer, mental and sexual health advice, visit our Health & Support page.
Share your views about pharmacies
Manchester City Council are asking the public to share their views about using a pharmacy.  The survey looks at a number of different things, including the services that pharmacies provide, opening hours and where they are based.
The survey is anonymous and the information that we collect can be used by health and social care partners to help with planning decisions for services in the future.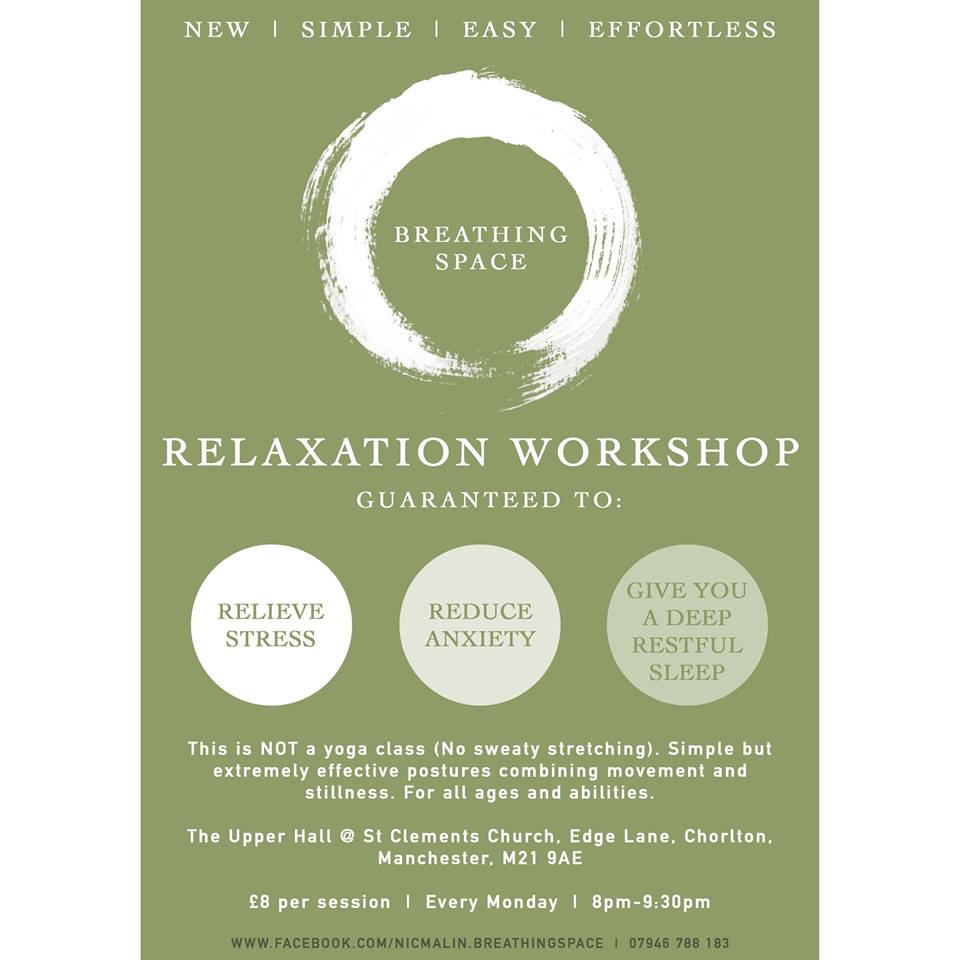 ---
BABY & CHILD FIRST AID
FOR CHORLTON PARENTS AND CARERS
2 HOUR CLASSES – BABIES WELCOME
Would you know what to do if your baby had a febrile seizure? Or if your child choked and back blows didn't work? Our 2 hour Baby and Child First Aid class covers this and everything else from bumps to CPR. You'll also take away a Mini First Aid book – all for £20 per person.
Places are limited so pre-booking is essential. Email gemma@minifirstaid.co.uk to book your place.
Pre-crawling babies are very welcome.
If you have a group of six or more people then I can come to you for a private class at a time to suit you. Very popular with antenatal groups and the same price (£20 per person).
https://www.facebook.com/events/627115294107966/?ti=cl
FB PAGE FOR REVIEWS:- www.facebook.com/minifirstaidmanchestersouth for recent reviews.
WEBSITE FOR INFO:- http://www.minifirstaid.co.uk
Take two hours for the Mini People in your life and your peace of mind.
Mini First Aid – for the Mini People in your life.
---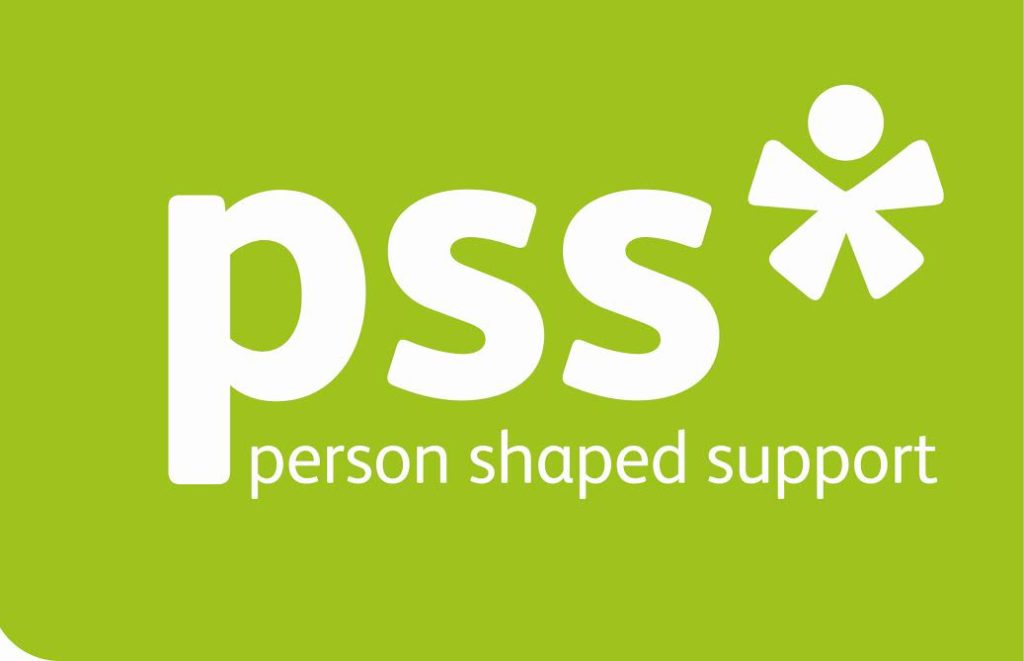 PSS
Manchester Shared Lives
LGBT Foundation 2nd floor
5 Richmond St
Manchester
M1 3HF
Short Description of what we do
PSS is a social enterprise that works across the UK. We have one key purpose: to help people get the most from life, whether this is at home, in their families, in their health and well-being or within their wider support networks.
In 2019 our organisation will celebrate its 100th birthday, but even as the years mount up one thing's for sure, we're not slowing with age.
As an organisation we developed some of the best known names in community support including Age Concern, the Citizen's Advice Bureau and Legal Aid. Today our team is continuing our legacy of innovation. We sit alongside Local Government and NHS services plugging the gaps and providing 'on the ground' support for a wide array of people. Our aim is simple and has been at the heart of what we do for a long time: to make the lives of those we work with better.
A short Description about Shared Lives Manchester (also known as Adult Placement)
Operating in a similar way to Foster care, this service enables adults with disabilities and/or mental health problems to live with a specially recruited carer and their family.
Overview
Shared Lives (or Adult Placement as it is also known) is a form of support where vulnerable adults and young people over 16 live at home with a specially recruited and trained carer and their family. The service runs in a similar way to a Foster placement, but this service is specifically designed for adults and young people.
Our service is fully focused around choice and independence. We encourage each individual to get involved in the decision of where they live and plan our matches carefully, so that both the carer and person using the service feel happy before the arrangement is made.
At PSS we manage the service from the start: we recruit and train carers,
we gain a strong understanding of the needs of those wishing to use the
service and alongside those involved we match the two together. We offer
a programme of training and support for our carers, which helps maintain high levels of support and most importantly we are there 24/7 to help our carers along the way.
We have nearly 400 carers across the UK so we can find carers from very specific backgrounds or defined areas if required.
Here in Manchester we are launching a campaign to recruit new carers. Shared Lives carers receive a support fee for their time. The amount they receive varies according to the individuals needs of the person they are caring for. We're looking for people who want to support others with the flexibility of working from home and being paid a fair wage while meeting new people and changing lives for the better.
Service users also pay a set amount towards the family food budget and household bills and in long term placements they are helped to manage their own tenancy and pay rent, usually through partial or full housing benefit.
AN EXAMPLE
Jane Williams is one of our North Wales Shared Lives carers and she lives in home with her husband and three men who live there as part of Shared Lives.
The family are very close and do everything together, whether it be eating, socialising or holidaying.
The family have an array of animals including chickens, dogs, horses and a grey parrot and everyone 'mucks in' to help out with the animals. The men Jane cares for all love to help run the house and they ensure everything ticks over.  "I have a big house and had previously worked in a supported landlady role for tenants needing more care. PSS Shared Lives seemed like a natural progression as I had the space, the time and the patience. "I have two men who live with me and a third man who is staying on a temporary basis. We live together as a family and share our lives. The men I care for have families who they see on a regular basis. My husband and I often get invited to their family celebrations and the men come along to our family events. "I couldn't imagine living any other way and I believe that the benefits are huge, really helping to improve quality of life…"
For Further Information please contact:
Email: sharedlivesmanchester@pss.org.uk
Telephone: 0161 236 1097
Website: www.pss.org.uk
Read the full document with images: PSS Media Pack

Visit the website and take the quiz…
Modern life makes it hard to be healthy
Without knowing it, by the time we reach our 40s and 50s many of us will have dramatically increased our chances of becoming ill later in life. Whether we are eating the wrong things, drinking more than we should, continuing to smoke despite everything we know, or just not being active enough, all of these small things can add up to an unhealthy you.
Making better choices today can have a huge influence on our health, and could prevent diseases such as type 2 diabetes, cancer and heart disease, and reduce our risk of suffering a stroke or living with dementia, disability and frailty in later life. But it's not easy in our busy lives – tempting treats in easy reach, bigger portions for everything we eat and technology that allows us to shop, stay in touch and be entertained without ever having to leave the sofa. Modern life is ganging up on us.
The good news is we can fight back.
One You is here to help you get back to a healthier you, supporting you to make simple changes towards a longer and happier life. One You provides tools, support and encouragement every step of the way, to help improve your health right away. You are not alone – One You can help you make small changes yourself, or with friends and family.
Take our free One You health quiz to see how you score and start the fight back to a healthier you.
Read more at https://www.nhs.uk/oneyou/about-one-you#rAGEIXC0c3okIT6t.99
---
Public health
Our responsibility for public health
The council is responsible for promoting and protecting the health and wellbeing of people in the city. We took over this duty from the NHS in April 2013.
We have a range of public health functions, but there are five specific responsibilities described by law. They are:
Helping protect people from the dangers of communicable diseases and environmental threats.
Organising and paying for sexual health services.
Providing specialist public health advice to primary care services: for example GPs and community health professionals.
Organising and paying for height and weight checks for primary school children.
Organising and paying for regular health checks for Manchester people.
Examples include giving advice on alcohol and drug misuse, helping people stop smoking, advising on obesity and diet, and promoting physical activity, better nutrition and healthy lifestyle.
We coordinate initiatives to improve mental health, and the health of children and young people, and raise awareness about health at work and preventing injuries.
We also carry out a range of research and intelligence activities to support commissioning and other work designed to tackle the scale of health inequalities found in Manchester, including leading the production of the statutory Joint Strategic Needs Assessment (JSNA) for Manchester and the publication of a bi-annual Compendia of Statistics.
---
---

---
Who's Who in North West Health and Social Care
The Who's Who in  Health and Social Care in the North West has been updated as of January 2016.  It now includes the NHS Vanguards operating in the North West as well as other amendments.   The full listing of contents is as follows:
– Clinical Commissioning Groups
– Commissioning Support Units
– Care Quality Commission
– Directors of Adult Care
– Directors of Children's Care
– Health and Wellbeing Board representatives
– Health and Wellbeing Board lead officer
– Health Education North West
– Healthwatch
– Local Authority – JSNA Leads
– Local Authority – Overview & Scrutiny Leads
– NHS Equality & Diversity Leads
– NHS England Regional Teams
– NHS England Strategic Clinical Networks and Senates
– NHS England Vanguards
– Public Health
– Skills for Care
Presentations from VSNW's recent Who's Who in Health Briefing seminar are now available to download
---
The Local Offer (Disability & Special Educational Needs)
The SEND Local Offer offers information for parents, in a single place, which helps them to understand what services they and their family can expect from a range of local agencies – including their statutory entitlements. Please click here for SEND useful contact numbers.In this section, you will find  information about national and local services and organisations which can offer support to Manchester families.  There are also details of clubs, groups and activities especially for children and young people with disabilities and special educational needs (SEN). Invitation to attend the Universal Services Event on 23rd March 2016. Please click here for further details.There are also lots of mainstream clubs and activities which are accessible to disabled children, known as 'universal services'.   Take a look in the main Things to Do category to find out more about local groups in your area.  We strongly recommend that you contact the services/organisations directly to ensure that they can meet your child's needs.Is there something that you would like to feedback about the Local Offer? Send us the details. Remember to include a contact details so that we can get back to you.If you have any concerns about the safety or wellbeing of a child, please ring Contact Manchester on 0161 234 5001.If you offer support or services to children and young people with SEND in Manchester, would you like your service to be listed in the Local Offer? If your service is already listed, you can take ownership of the record.  Click here to find out how.
Living Longer Living Better Newsletter
The second newsletter of the Living Longer, Living Better programme is now available. Living Longer, Living Better is the Health and Social Care integration strategy for Manchester. The key project is the development of One Team – 12 patch-based integrated health and social care teams. The project is supported by a practitioner design team and the newsletter gives updates on each of the project work-streams. Macc is represented on a number of the working groups and Mike Wild, the Chief Executive of Macc, was part of the selection panel to appoint a voluntary secotr secondment to the design team. Read more

Read the lasted bulletin from CCG group via the link below.
Please contact the team to join their mailing list and receive the bulletin yourself.
---

Interested in healthy, nutritious food but not sure about the cooking?
We are thinking of doing a project later this year to run through the winter months about how to eat well and stay healthy in the cold weather, including some practical cook and taste demonstrations. If there is enough interest, we will apply for funding to enable us to run the project.
Our initial thoughts are that the project would be based at JNR8, led by a local nutritional therapist, but we would also like to run sessions at other local venues such as sheltered housing organisations in Whalley Range. The idea is that we could get people together in an informal, friendly way to meet, eat, chat, and get some tips on easy ways to cook for one and how the right foods can help you to stay well through the winter.
As a first step, we would like to know what you think – does this project sound as if it would be of interest to you or are there other ways to do it?
Drop Chris a line at agefriendlywhalleyrange@gmail.com
to register your interest in taking part and put forward any other ideas you might have about food/eating/healthy ageing
---
Sugar Group – Diabetic Support Group
Support group for people living with diabetes.
Gentle exercise sessions
Awareness sessions
Trips out
Where to Go
Venue address
Kath Locke Centre
123 Moss Lane East
Hulme
Manchester
Postcode
M15 5DD
When is it On?
Date & Time Information
Monday 1pm to 3pm
Other Details
Other Costs
£1 as contribution
Age Range
50+
Who to Contact
Telephone
0161 455 0211
Email
klc@thebiglifecompany.com
---
What To Do When You're Feeling Unwell – in English,  Urdu,  Arabic,  Punjabi, and Bengali
Videos: http://www.pat.nhs.uk/patients-and-visitors/what-to-do-when-youre-feeling-unwell—videos.htm
---
 Peer to Peer – the Rough Guide to Being Well: upcoming course
 
PEER RECOVERY WORKSHOPS
Our team of Peer to Peer experts provide a comprehensive overview of the essential steps for a successful recovery. Taking a radical break from the clinical focus of traditional services and placing greater emphasis on shared learning, healthy community, experts by experience and the healing power of the peer relationship, these workshops aim to help participants make the successful journey from stuck, to recovering to thriving.
Venue: A range of workshops will take place in a variety of locations across Greater Manchester. Specific venues to be confirmed
Workshop Programme
1. Meet, Greet and Physical Health
A general introduction and overview of the whole course. A chance for participants to meet each other and the facilitators of the course. This session will also look at how exercise, nutrition and being active can contribute to our mental wellness and how we can gain more support in this area.
2. Foundations of Recovery
Exploring the essential building blocks of the recovery process, the reasons why we are here and how self honesty and reflection can be a vital first step on the road to wellness.
3. Peer Networks
This week we explore how a network of peer support can help us in our recovery. We look at the support in our lives and how useful/appropriate it is and whether further help from other people would be useful.
4. Positive Self Care and Emotional Intelligence
In this session we focus on how we can nurture our recovery through positive self care. We look at self esteem, confidence building and how time and healing are vital components.
This session will also look at the vital role that emotional intelligence can take in staying well. We look at different tools for becoming more aware and managing our thoughts such as counselling, CBT and self help.
5. The Bigger Picture
We look at how being connected to other people and our planet can play a role in our recovery. Exploring spirituality, religion and human connection as well as how nature contributes to our wellness.
6. Value Meaning and Purpose
In this session we explore the different things that can enrich our lives and bring a sense of purpose to our recovery such as creative activity, hobbies, personal interests and education.
7. Helping Others and Emancipation
This session explores how giving to others can help move us into a new stage of recovery. We look at volunteering, work and the roles that we play within our families and social groups.
This week we also look at the social context of mental distress and wellness. We explore how the societies we live in can contribute to stresses and strains on our wellbeing and look at how we can respond to that positively both in both a personal and collective context.
8. Relapse Prevention
In this session we focus on strategies and techniques for staying healthy as well as looking at how we address temporary setbacks in our recovery. This includes looking at tools for resilience and how we can be aware of triggers to potential relapse.
9. Celebration Event
A final session where we reflect on what we have looked at in the whole course and celebrate our learning together. Certificates will be presented to those who have completed the course!
For more information on our Peer to Peer Services, please call 0161 226 3871 or email peertopeer@selfhelpservices.org.uk
The Peer to Peer service has been created with help from The Big Lottery Reaching Communities funding programme.
Recovery Workshop Application Form: Rough Guide Workshop Application Form
---
---