Local and wider community initiatives
Winners of the Be Proud Award for Clean Neighbourhoods.
This because of our fly tipping campaign in the Dukeries.
Thanks to all the Whalley Rangers who shifted 65 tonnes of dumped rubbish, watch out for and report fly tipping, introduce planters into their ginnels and Love Where We Live!
---
Celebrate – the annual Whalley Range volunteer-led community festival

The aims of the group are to:-
– Celebrate the talent, diversity and resources of Whalley Range
– Promote a positive image of the area and improve the quality of life
– Encourage participation of the different communities within the area,
– Work in an anti-discriminatory and inclusive way (i.e. be low cost and barrier free).
Celebrate is a separately constituted sub group of Whalley Range Youth Opportunities Association, an organisation made up of representatives of local groups e.g. Friends of Manley Park, WRYOA, Whalley Range Community Forum and others.
Celebrate Festival is our annual volunteer led event held in Whalley Range – traditionally on May Day.
The event is held in partnership between Whalley Range Youth Opportunities Association and the Whalley Range Community Forum.
We are committed to working with  everyone in the community – especially newly established groups who have been supported to develop by the Forum and that all groups are represented to celebrate our diversity and showcase our local talent, building and maintaining links across the community.
We strive to challenge any negative perceptions people may have with regard to Whalley Range by encouraging active cross cultural community involvement in our festival events, workshops and activities,strengthening community cohesion and encouraging participation from residents from all of the diverse cultures that exist within our ward.
A consultation was circulated about Celebrate: some of the responses are below.
Q1: How does the Celebrate Festival bring the Whalley Range community together?
Q2: Why is an event that brings members of a very diverse community together important?
An event which caters for all ages, young, old and in-between! One that has activities that are attractive to a wide range of cultures and interest groups.
Something for everybody. One of the highlights of the Whalley Range year.
Whalley Range has a diverse society, lots of religions and cultures and Celebrate Festival reflects this.
it brings rich, poor, middle-class, working-class, young and old together and those from other ethnic minorities besides English.
This is an opportunity for the vast number of small voluntary and community groups to showcase what they are involved in and promote their activities.
It's a chance for neighbours to get together in an informal way. With so many people leading busy lives, it's really wonderful to see everyone from across the community in the same place enjoying the activities, information sharing and each other's company.
Community cohesion and integration must be encouraged to avoid people feeling isolated, abandoned and rejected. Events like this promote community cohesion.
In diverse communities like Whalley Range it is often not the case that people from the diverse range all get along. Often the different groups are isolated from each other and never really mix. Events like this are a good way to get people from the wide range of groups to talk to each other and share commonalities as well as celebrate difference.
It's inclusive, everyone has a chance to get involved and it's a chance to participate in free workshops
•Because we are all human beings and Celebrate brings human beings regardless of their shape or colour together to have fun and learn. In full: www.whalleyrange.org/communityforum/celebrate-survey-what-did-people-say-about-the-festival/
Celebrate is an ideal platform for local community groups to host a stall to promote themselves and get people involved in having a say in their community
Celebrate_Festival_Report 2015
http://wryoa.org/category/celebrate/
https://www.facebook.com/pg/CelebrateFestivalWhalleyRange/about/?ref=page_internal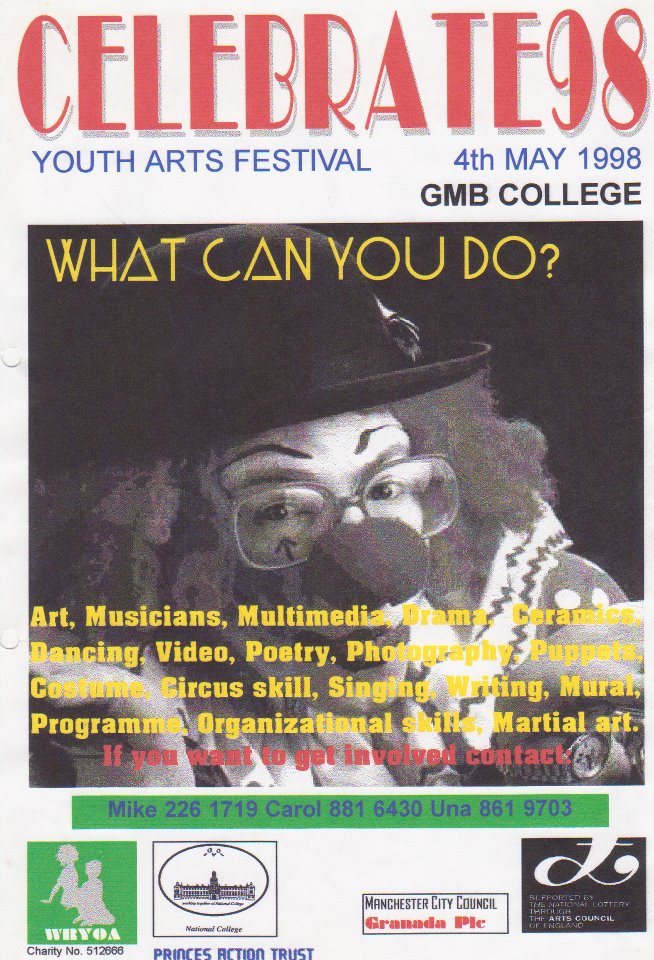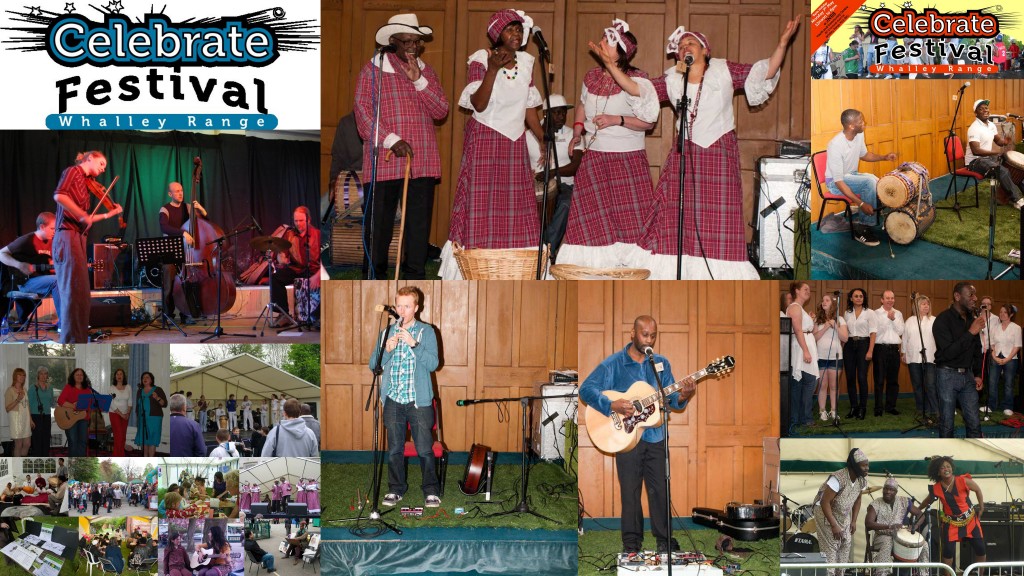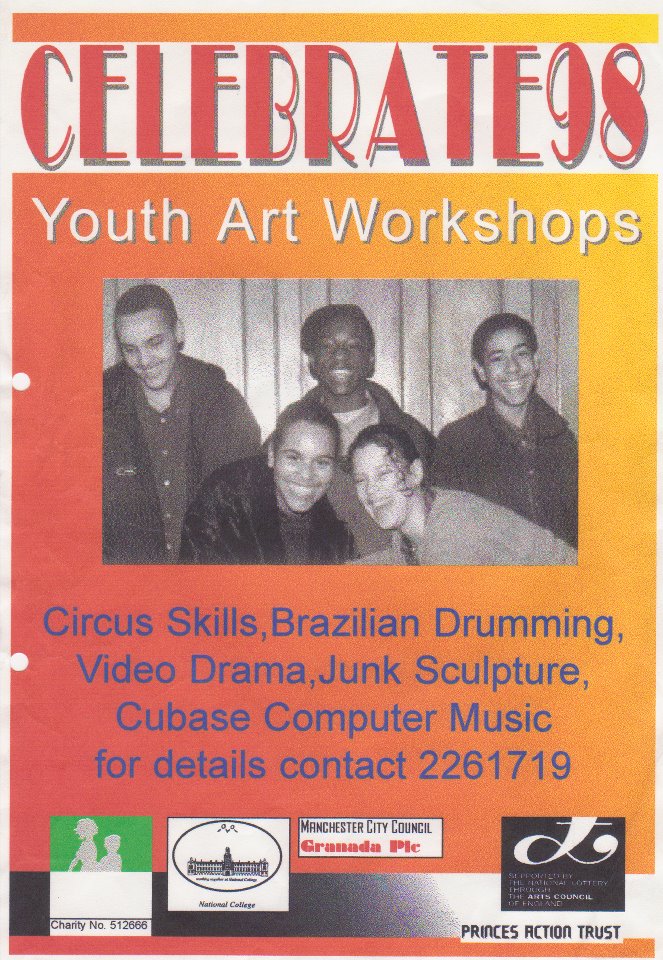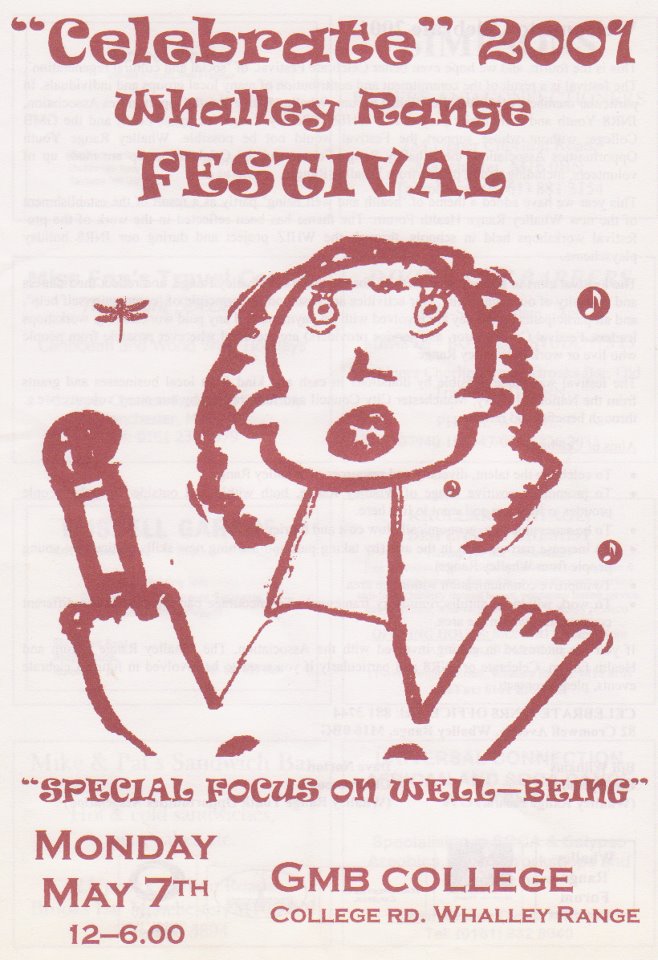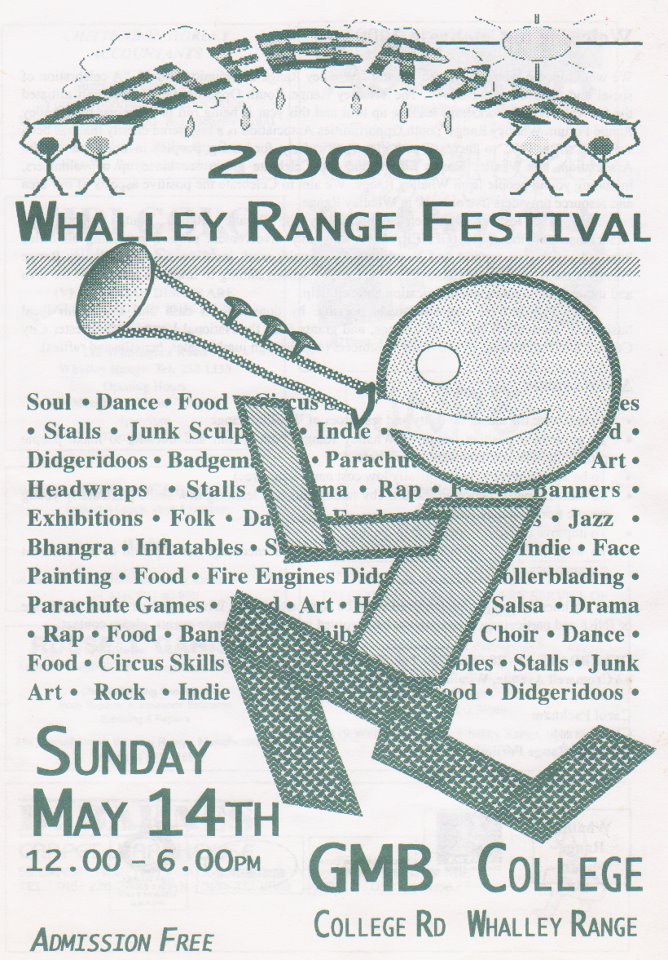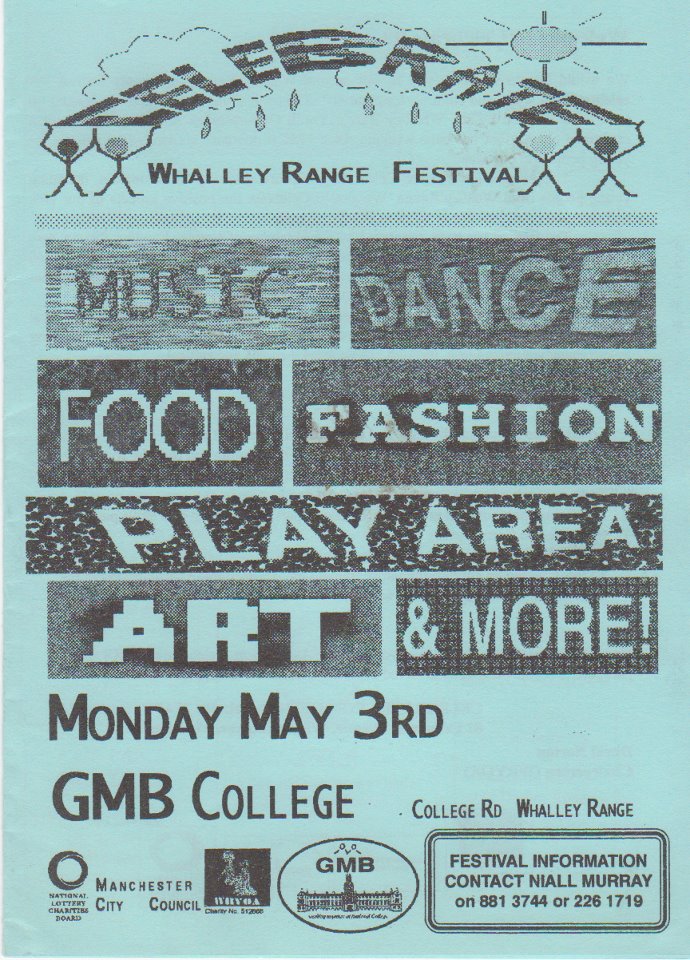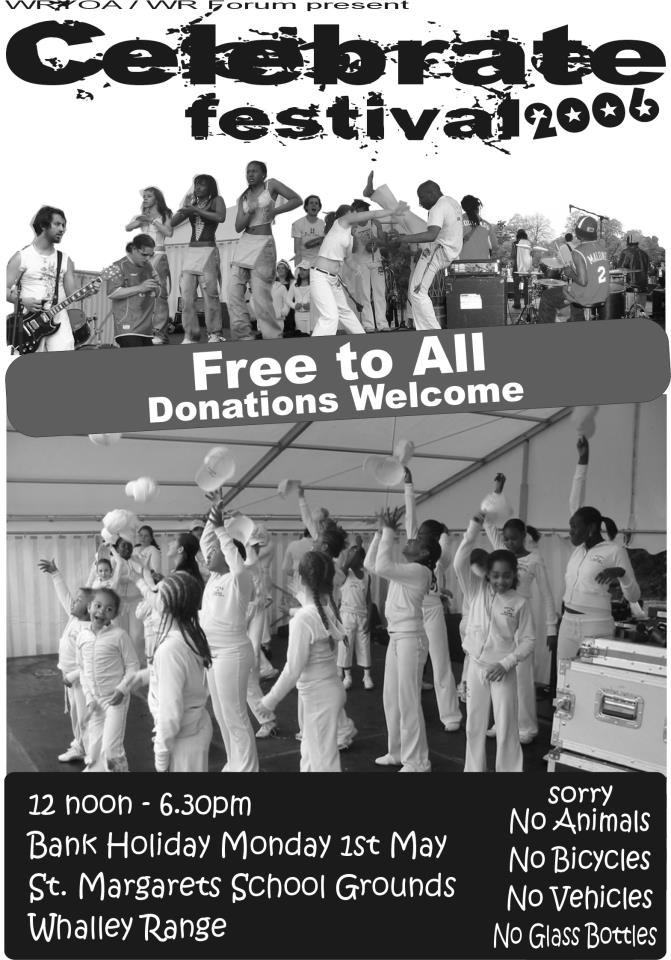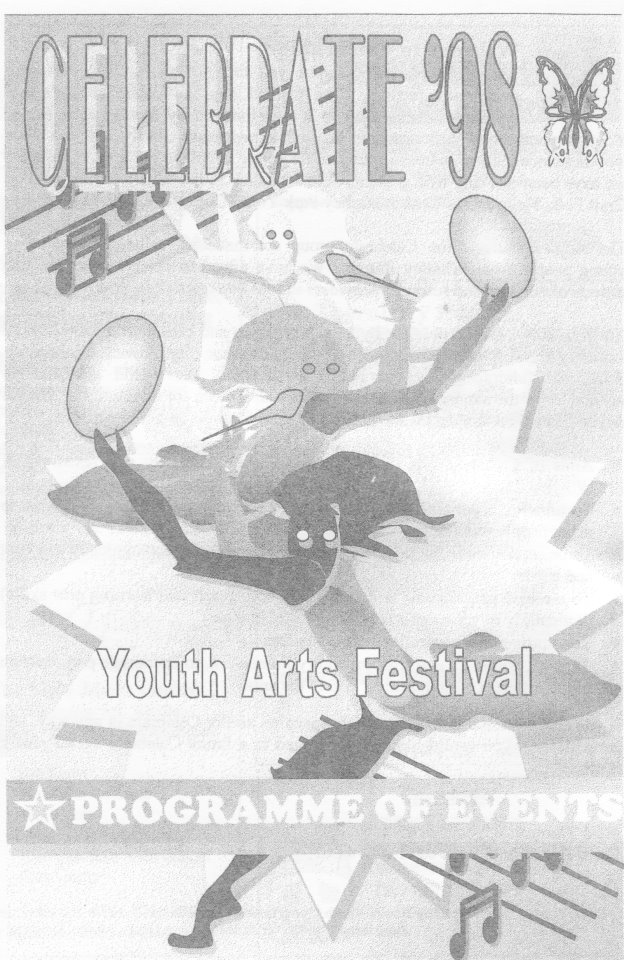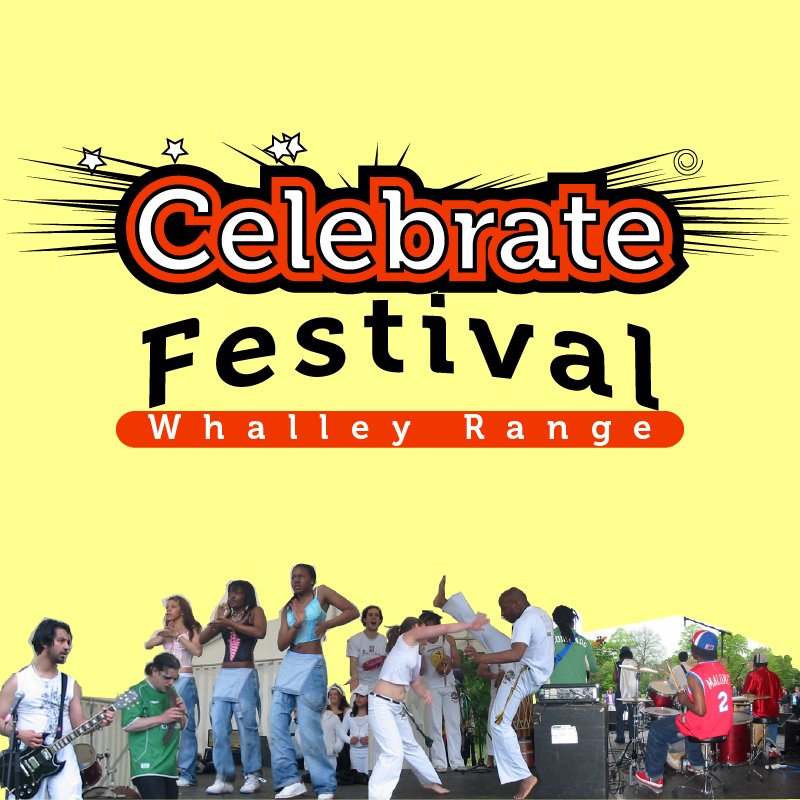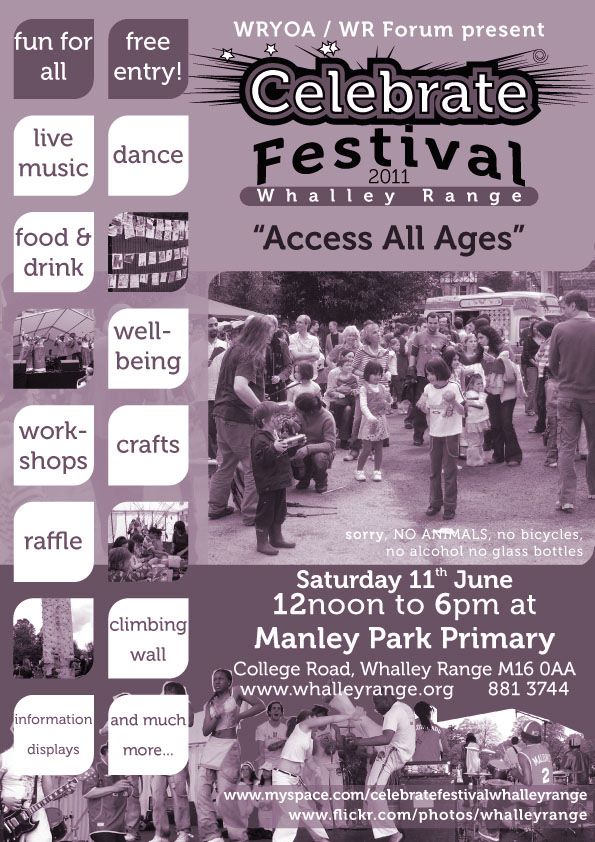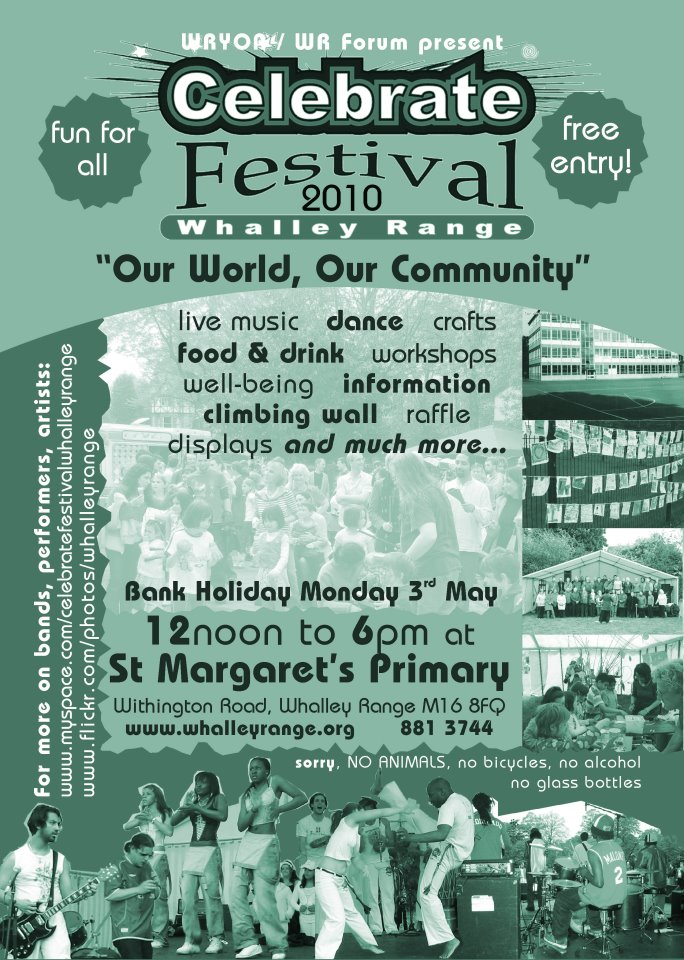 ---
Withington Road First Steps is about getting residents, traders and shoppers talking about the Withington Road Shopping Area. Its about finding out what we like and hate, about our ideas and aspirations, and developing a shared vision for what this local centre could be.
The Withington Road Action Plan was launched at the Whalley Range Community Forum's AGM on 30th January 2016.
It  details how the community will work together for a safe, attractive and thriving local 'high street' where people want to shop, work, live,
access services, trade and come together.
You can download the Action Plan and other reports here.
500 Fares a Day is the report of the Withington Road Bus Survey and presents the business case for a bus service on Withington Road.
You can read it here http://withingtonroad.org/wp-content/uploads/2016/08/500-fares-a-day.pdf
---
ALEXANDRA PARK
The Park was opened to the public in1870 and was designed by Alexander Hennell. The design of the Park was experimental in its use of oval shaped and curved pathways, which contrasted with the more rigid geometry seen previously in Victorian landscapes. It is located between the vibrant communities of Whalley Range & Moss Side, just off Princess Road and covers 60 acres.
The website has been developed to provide a range of information about the facilities within the Park, the various Groups that have been set up by Park users and the events and sporting activity that regularly take place.
The park has recently been re-developed with funding from the Heritage Lottery Fund, Manchester City Council, the Lawn Tennis Association, English Cricket Board and Sport England bringing the original landscape and community facilities back to life.
Visit the website for Alexandra Park Manchester.
https://alexandraparkmanchester.org/
---
In 2017 Whalley Rangers and Manchester City Council will be working together to tackle fly tipping in Whalley Range. The campaign will focus on the avenues and back alleys along Clarendon Road, Bury and Cromwell Avenues and other fly tipping hot spots:
The Council's powers have just been increased so that Fixed Penalty Notices up to £400 can be issued. The maximum penalty for fly tipping is a £50,000 fine and/or 12 months in prison.
Local residents are fed up with their neighbourhoods being blighted by piles of rubbish being left on the pavement and in back alleys.
The campaign begins in March 2017 and will:
Raise awareness of fly tipping as an offence – and as anti-social behaviour – through leaflets, signs and stickers.
Work with community groups, landlords and letting agents, to encourage responsible behaviour.
Systematically clean the worst affected neighbourhoods and start making them more attractive and safe.
See more about the group on Facebook and the Recyling page and read the article from the Manchester Evening News below
---
Age-friendly Projects
Age-friendly Southway
Age-Friendly Pilot Project – Old Moat & Withington
The Old Moat: Age-friendly Research and Evaluation Toolkit brings together the methods and resources which were used in the research project. It is designed to be a useful tool for anyone wanting to replicate similar activities in other communities, or at a later date to evaluate improvements.
Southway has a strong commitment to working with our tenants, residents and other partners to deliver excellent services and to improve quality of life for people within our neighbourhoods. Southway has a particular focus on older people with 43% of households containing one person over the age of 65.
In May 2012 Southway adopted an Age-friendly Strategy which sets out the priority actions we intend to take, with partners, to meet the needs and improve the quality of life of older people.
Have a look at our strategy for more information:
Additional Age Friendly information;
Old Moat Age Friendly Projet
CLICK HERE TO FIND OUT WHAT'S ON IN SOUTH MANCHESTER
Age-Friendly Pilot Project – Old Moat & Withington
Manchester is the first UK city to be accepted into the World Health Organisations (WHO) Global Network of Age-friendly Cities in recognition of the work carried out by the Valuing Older People (VOP) Partnership. The WHO's Global Age-friendly Cities: A Guide  is divided into eight key themes. More information can be found on the  WHO Website.
The partnership between VOP and Southway aims to work together to contribute to the overall objective of making Manchester a leading Age-friendly City.
In May 2012 the Old Moat Age-friendly Research began. The project, which was commissioned by Southway Housing Trust and supported by VOP, aimed to address the environmental and social factors that contribute to active and healthy ageing in communities such as Old Moat. The research was undertaken by the University of Manchester, Manchester School of Architecture and Leech Rhodes Walker Architects.
The Old Moat: Age-friendly Neighbourhood Report and Action Plan was formally launched at an event on 30th May 2013 held locally at St Christopher's Church. It was well attended by local residents and a variety of agencies involved in the delivery of services in the area.
If you would like to get involved and find out more about this project please contact: Catherine Morris, Age-friendly Project Officer on 0161 448 4281 or c.morris@southwayhousing.co.uk
---