http://www.makingmanchestersafer.com/
---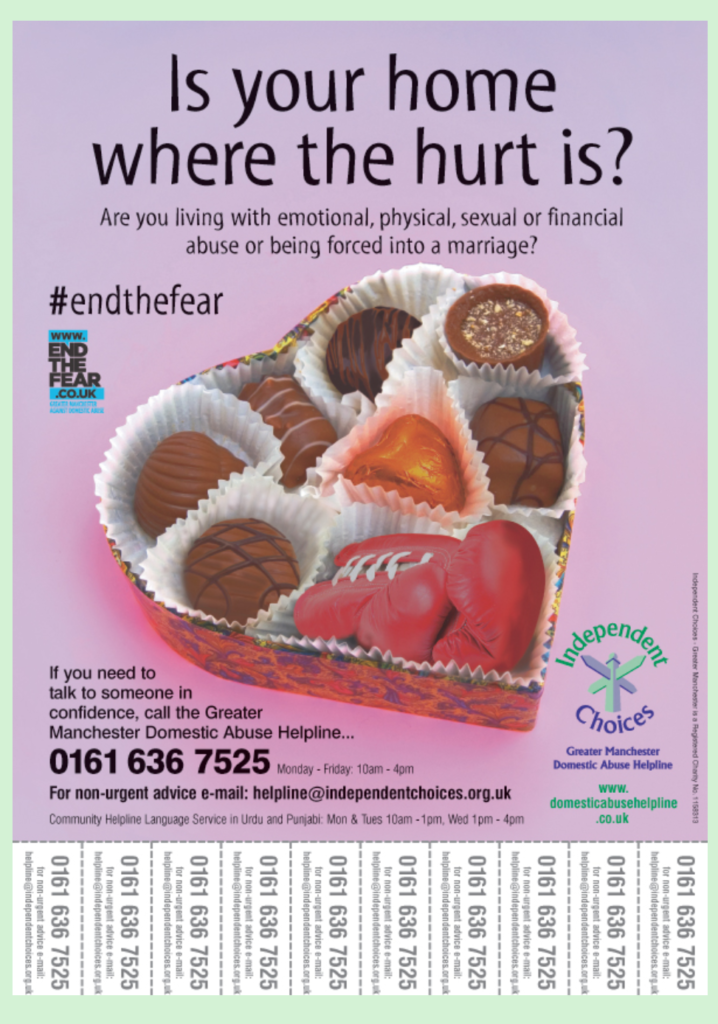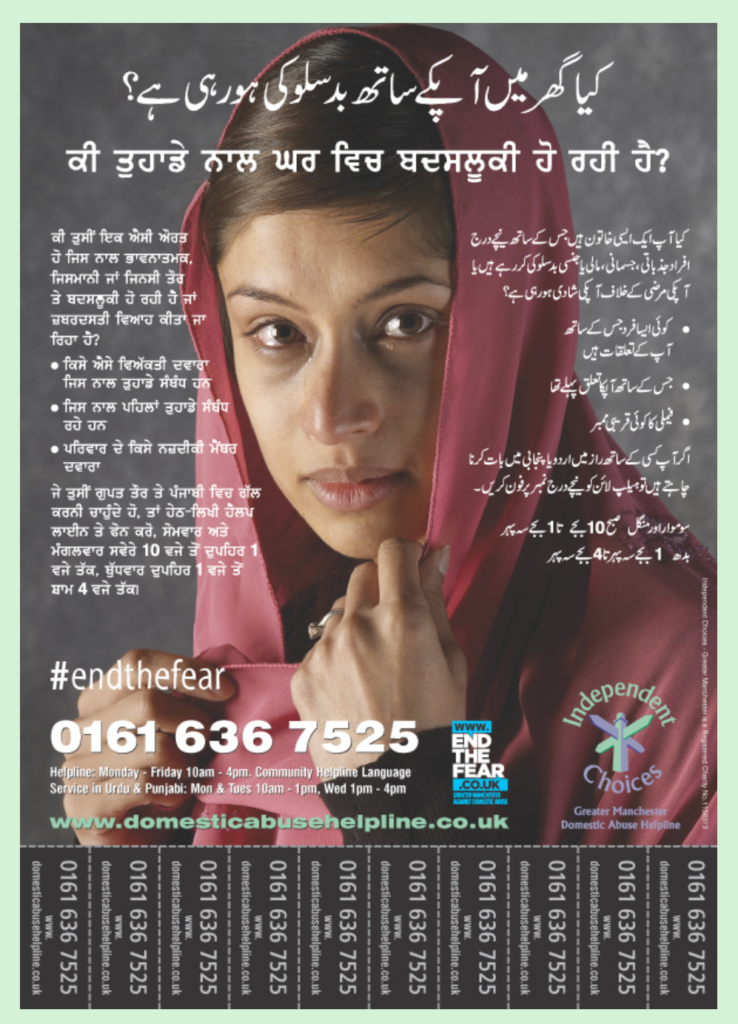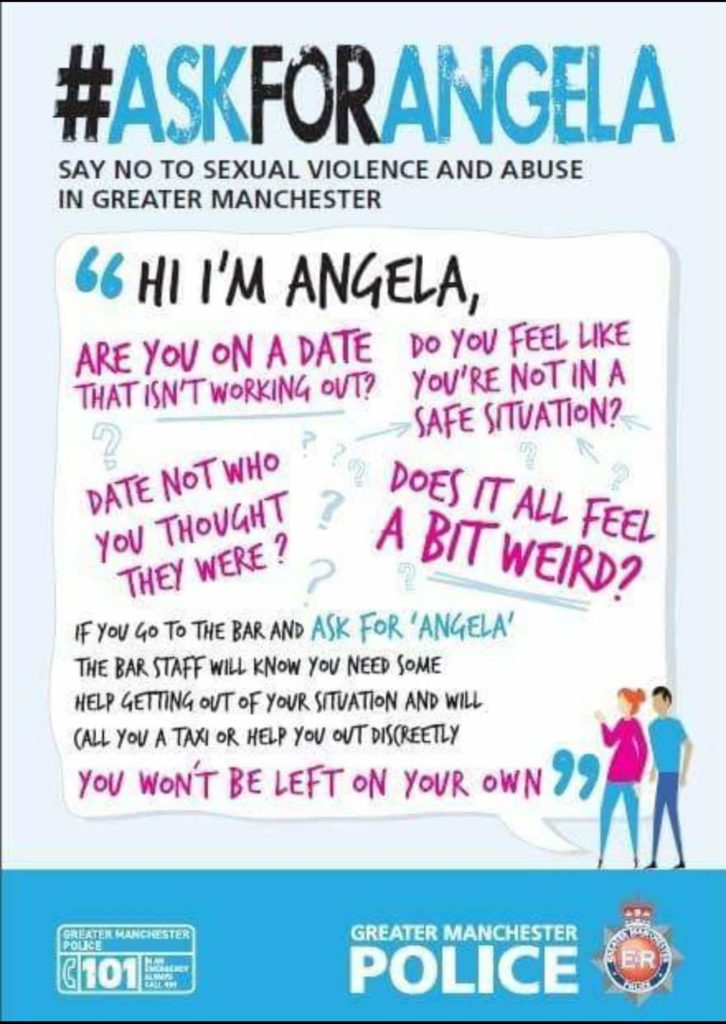 ---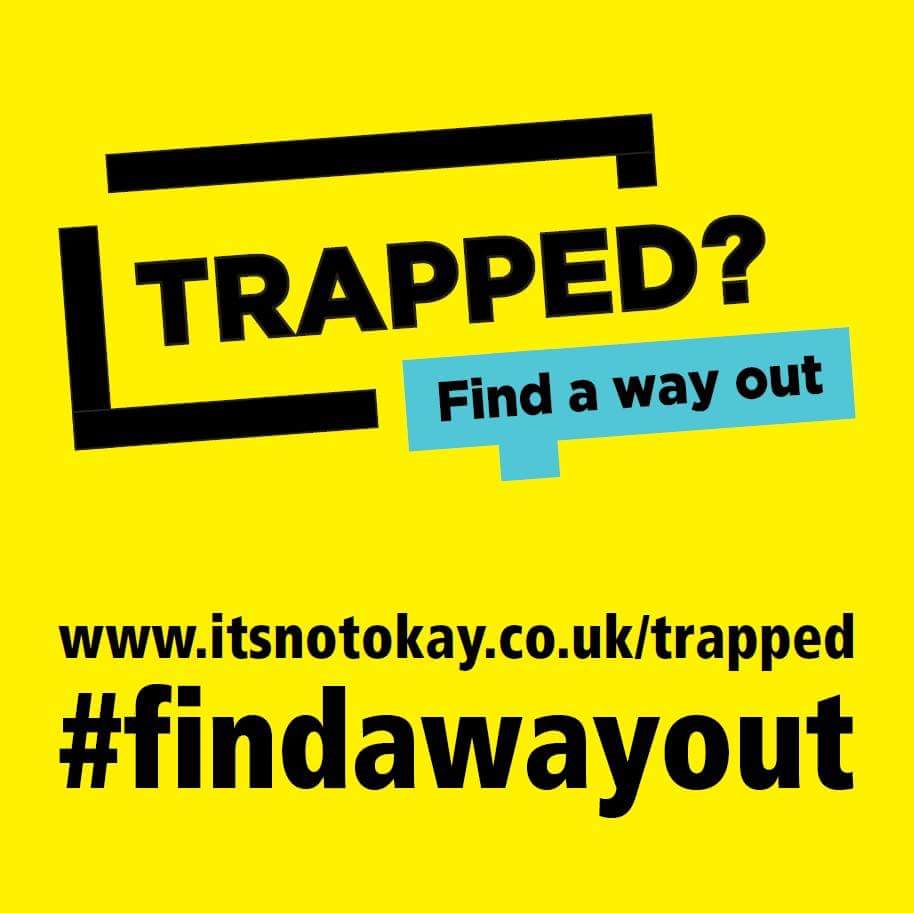 Police, local authorities, Greater Manchester Combined Authority, young people and an MP have launched a campaign to stop criminal gangs from grooming children and vulnerable adults to commit crime. 
The campaign, known as 'Trapped', aims to raise awareness of criminals who are grooming and exploiting children and young adults to commit crime on their behalf.
Offenders take victims from urban areas to the countryside or coastal areas to sell drugs. Sometimes victims are trafficked closer to home, and are moved around Greater Manchester.
As well as drug dealing, victims are sometimes asked to carry out other forms of criminal activity such as arson, violent offences, storing firearms, holding money, criminal damage or assault.
Offenders use coercive behaviour to threaten and exploit victims and their families.
Some signs that a young or vulnerable person could be 'Trapped' and need help are:
• Young people going missing and travelling to seaside or market towns
• School absence or missing from school
• Money, clothes or accessories which they are unable to account for
• Receiving an excessive amount of texts and phone calls
• Relationships with controlling / older individuals or groups
• Carrying weapons
• Significant decline in school results / performance
• Self-harm or significant changes in emotional wellbeing
Anyone with concerns either about themselves or somebody else should contact Greater Manchester Police on 101 in a non-emergency situation or report anonymously through Crimestoppers on 0800 555 111.
Always dial 999 when there is an immediate threat to life or a crime in progress.
***
Are you being forced to sell drugs on behalf of someone else?
You can find a way out.
---

We would like YOUR views on Manchester's Community Safety Strategy & Community Safety in our city.
---
---


---
 What is hate crime?
Hate crime is any crime that is targeted at a person because of hostility or prejudice towards that persons:
Disability
Race
Religion or belief
Sexual orientation
Alternative subculture
Trans and gender reassignment
Report hate crime
Call Greater Manchester Police on 101
Call the Manchester City Council's Hate Crime Report Line on 08000 830 007
Report it to True Visionanonymously
Report it to a Third Party Reporting Centre in South Manchester or North Manchester
Third Party Hate Crime Reporting Centres
Third Party Reporting Centres in South Manchester
JNR8 Youth & Community Centre
82 Cromwell Avenue
Whalley Range
M16 0BG
0161 881 3744
Community on Solid Ground
Welsh Chapel, 116b Egerton Rd North
Whalley Range
M16 0BZ
0161 862 0955
Moss Side Millennium Powerhouse
140 Raby Street
Moss Side Manchester
M14 4SL
0161 226 4335
Mosscare Housing
101 Great Western Street
Moss Side
M14 4AA
0161 226 4211
Places for People
179 Royce Road
Hulme
M15 5TJ
Southway Housing
Aspen House, 825 Wilmslow Road
Didsbury
M20 2SN
0161 448 4200
The Odd Theatre Company
335 Stretford Road
Hulme
M15 5ZA
0161 226 1912
Opening hours Monday to Friday 9am – 6pm
Butterflies Trans* Support Community Drop – In
49/51 Sidney Street
Manchester
M1 7HD
---
---


Partner Bulletin February 2018
http://www.gmp.police.uk/content/PartnerBulletinWeb/8C6BF973F9E8299E8025822F004E7719?OpenDocument
Please find above link to the GMP Partner Bulletin for February 2018.
---
New Hate Crime Strategy for 2016
The 2016 – 2019 Hate Crime Strategy has been launched and is available to download.
Hate crime is a serious social issue that has a significant impact on its victims, families and the community. The strategy was developed on behalf of the Council and Manchester's Community Safety Partnership and sets out our key priorities for tackling and responding to Hate Crime.
In order to develop an effective and relevant Strategy, we consulted as widely as possible with a variety of people. The first part of this consultation involved agencies, voluntary and community groups who fed back their views at an event held in May 2015. A summary of the feedback can be found here.
You also kindly gave us your views and feedback via an online questionnaire and by returning the paper copies in the post. The consultation has now closed, the results were analysed and fed in to the development of the new strategy. A full summary of all the consultation findings can be found here. 
Thank you for taking the time to get involved in the consultation, your views have been important in shaping a Hate Crime Strategy that is committed targeting hate crime an its causes.
The Whalley Range Community Forum worker and Chair attended a training course in 2015 to find out more about the JNR8 Youth & Community Centre taking on the role of a Third Party Hate Crime Reporting Centre, in line with Manchester's Hate Crime Strategy:
http://www.manchester.gov.uk/downloads/download/5185/hate_crime
The strategy sets out a clear vision for tackling hate crime in Manchester against the following five key partnership priorities:
• Prevent hate crime,
• Increase the reporting of hate crime and hate incidents,
• Take effective action against perpetrators,
• Support victims of hate crime,
• Improve partnership responses.
The five strands of hate crime set out by the Government which will be recorded and monitored are:
• Disability,
• Race, Religion or belief,
• Sexual orientation,
• Trans and gender reassignment.
• Alternative sub culture became the sixth hate crime strand in April 2013.
The Whalley Range Community Forum believe the JNR8 Centre is an ideal venue to support residents who feel they have been a victim of a hate crime or hate incident – as we have built up a good relationship with local residents and groups.
There are facilities at the centre to support victims to report incidents on the dedicated website www.report-it.org.uk/ which gives information and an online reporting facility.
(reporting incidents anonymously is an option).
The different levels of a reporting centre can vary depending on resources available – from displaying literature, promoting hate crime reporting or providing recording, reporting and signposting to support services.
We aim to display information and support residents if they wish to report incidents online.
This is a list of Third Party Reporting Centres on the South Manchester and North Manchester Divisions:
JNR8 Youth & Community Centre
82 Cromwell Avenue
Whalley Range
M16 0BG
0161 881 3744
Greater Manchester Police have launched a hub for shoppers to make purchases safely online without giving out their home address.
The 'Internet Purchase Exchange Location' scheme has been set up outside the GMP NorthManchester headquarters, in Central Park, where it will be under CCTV surveillance.
It is hoped the hub can act as a place where shoppers can meet to exchange money and goods on websites such as eBay, Craigslist and Gumtree in a safe environment.
Users would not need to give out their home address, with people being able to meet up at the hub to exchange goods.
The idea is currently being trialled in North Manchester, with plans to expand across the region.
GMP said the number of crimes involving people shopping online is rapidly increasing.
The aim of the Internet Purchase Exchange Location is to reduce the risk for shoppers by removing the need for people to give out their home addresses and provide a neutral ground close to police officers.
Read more: www.manchestereveningnews.co.uk/news/greater-manchester-news/greater-manchester-police-launch-hub-11660366
---
Police warn of the dangers of Pokemon Go to children
 Police are urging parents and teachers to speak to young people about staying safe when using the recently launched Pokemon Go app.
The app allows people to set up a 'beacon' which can then encourage other users to reach a specific venue and police are concerned it could be the latest way online criminals attempt to target victims.
Detective Superintendent Joanne Rawlinson, from GMP's public protection division, said: "We know that criminals move quickly to exploit the latest developments to target victims and Pokemon Go will already be in their sights. There have already been incidents in America where young people are thought to have been targeted through the app.
"I would urge parents to speak to their children about the app and the best ways to make sure they stay safe. Talking to your child is one of the best ways to keep them safe.
"Online child sexual abuse and grooming is a rapidly growing problem and as part of Project Phoenix we continue to work with other partner agencies to raise awareness of the issues and provide advice and guidance on Internet safety, how to stay safe, spot the signs and how to report offences. Young people, parents, teachers and others need to know what to look for so they can raise concerns.
"I ask parents to speak to their children about the sites they visit online, who they talk to and most importantly what to do if they see inappropriate content or are approached by someone that worries them. Advise your child to tell someone they trust and stress they won't be in trouble. Explain to your child that friends are people that they know in 'real life' not someone they don't know online.
"Parents, make sure you know what your child is doing online and encourage them to talk about any people that approach them online. Everyone needs to keep security settings high and make sure the friends you are talking to online are really your friends."
Advice to users is:
•    Be cautious about alerting strangers to where you will be in future. Be careful where you leave 'beacons'
•    Parents, supervise children when using the app
•    Always pay attention to your surroundings, especially in built up areas
•    Where possible play with friends and stay in a group
•    Avoid playing near roads
•    Play at home – You can use lures to attract Pokémon to you
•    Keep your device safe – You can still play with your phone out of site, it will vibrate when a Pokémon is near
•     Don't play while driving
For more information on child sexual exploitation and who to contact if you have any concerns that a young person you know may be a victim of child sexual exploitation visit www.itsnotokay.co.uk.
You can also report it to Greater Manchester Police by calling 101 or call Crimestoppers anonymously on 0800 555 111. If someone is in immediate danger, dial 999.
---

---
Sir Richard Leese, Leader of Manchester City Council, responds to the increase in hate crime in the region.
Sir Richard said: "Ours is a city which has always welcomed non-native Mancunians and respected the contribution they make to our economy, our public services – especially the NHS, in which many work – and the general vibrancy of the city.
"The people who are most definitely not welcome are the racists and thugs who do not abide by the values of this great city and make no positive contribution.
"Manchester remains an inclusive, international city and we will not tolerate any abuse of people from different national, ethnic or religious backgrounds. We will work closely with Greater Manchester Police to ensure our communities continue to feel safe and that those who spout poison are brought to justice and appropriately punished.
"Whilst sadly there has been an increase in hate crime incidents taking place in the wake of the referendum result, I know that the majority of those who voted Leave are not racist bigots. Although they might have legitimate concerns about a changing world which have to be addressed by building an economically and socially inclusive city and I'm they will join with me and all other ordinary, decent people in condemning the actions of those who would spread hate."
---
The route to ending hate crime in Greater Manchester A research and consultation report
http://www.gmpcc.org.uk/wp-content/uploads/2015/09/Hate-Crime-Report-FINAL1.pdf
---
About this website
This website provides useful information and practical advice for victims and survivors of crime, and their families. You can use it to find help, regardless of when the crime happened, or whether or not you reported it to the police.
We welcome your feedback on all aspects of the 'victim's journey' – including your views on this website. We want you to tell us what you like and don't like so we can change things for the better and help improve services and information.
Have your say
Email info@gmvictims.org.uk
Who we are
The Greater Manchester Victims' Services website has been put together by Greater Manchester Mayor and Police and Crime Commissioner Tony Lloyd, along with partner agencies.
Working together, we want to radically transform and improve the way victims' services are delivered in Greater Manchester, putting victims and survivors of crime at the heart of everything we do, including service design and delivery.
The partner agencies involved in this work include:
Greater Manchester Mayor and Police and Crime Commissioner Tony Lloyd
Greater Manchester Police
New Economy
Public Service Reform Team
Victim support services
Greater Manchester's local criminal justice board
Representatives from NHS England, Public Health and clinical commissioning groups
Local councils and community safety partnerships
Police and Crime Panel
Representatives from voluntary community and social enterprise services
Children's services and education boards
Crown Prosecution Service
Her Majesty's Courts and Tribunals Service
National Probation Service
Greater Manchester Fire and Rescue Service
---
My vision for local policing: a message from Tony Lloyd
One of my most important jobs is setting the priorities for policing and community safety in Greater Manchester.  After speaking to elected representatives, local organisations, community groups, businesses and many individuals across Greater Manchester, I've identified six key priorities for policing and community safety. These set out how Greater Manchester Police will work with local councils, health, other agencies and – most importantly of all – local people, to make Greater Manchester safer and stronger.
We've made a short film to explain the plan which you can see here:
These aren't really my priorities – they belong to us all. Delivering them will be challenging as we face cuts in government finding to our local services. But it is ambitious programme, which I believe we can deliver together.
Ultimately this is about all of us working together to make Greater Manchester even greater.  It puts the people of Greater Manchester at its heart.
You can read the plan in full by visiting:
This is an ongoing conversation and, as ever, I would be really pleased to hear your views.
Kind regards
Tony Lloyd
Greater Manchester Mayor, and Police & Crime Commissioner
---
---
This brief toolkit on on-line Islamophobia has been put together by TELL MAMA and Dr Imran Awan of Birmingham City University. The leaflet is a self help leaflet to help people to understand on-line Islamophobia and ways of tackling the bigotry, hate and intolerance.
If you use this information leaflet, we would be grateful if you could cite TELL MAMA and Dr Imran Awan.
---
You can get updates from you local neighbourhood officers through Twitter and Facebook. To find out yours go to www.gmp.police.uk/socialmedia
If you have any queries about items in this Bulletin please contact Amanda Coleman, GMP Corporate Communications, on 0161 856 2239.

Greater Manchester Police is asking people to scratch beneath the surface of their relationship and consider whether it is abusive as new coercive control laws come into their second month of implementation.
The new SCRATCH campaign sees officers highlight the new legislation that makes controlling and coercive behaviour a crime – enabling police to pursue arrests and charges, and safeguard victims who may have previously been unable to make a criminal complaint.
During the launch on Thursday 18 February, members of the public will be given SCRATCH cards which, instead of revealing a cash prize, will uncover another layer of control as the sections are scratched away. Officers visiting domestic disputes will also be encouraged to use the scratch cards with victims, to help them understand what constitutes coercive and controlling behaviour.
Assistant Chief Constable at GMP, Robb Potts, said:
"There has long been a call for the law to adapt and acknowledge that psychological exploitation in a relationship can be as damaging as physical abuse. Now that the new legislation has come in, our work as a force also needs to develop.
"We have already trained over 500 front line officers to deal with reports of this nature and this work will continue over the coming months. As an employer GMP also has a responsibility for the welfare of its staff and as such, we will also be sharing information on the change in the law internally.
"It's really important for us to make the public aware of this change in the law and for people to know that we are taking reports of this type seriously. The SCRATCH campaign will add to our existing work.
Read more at:
http://www.gmp.police.uk/live/nhoodv3.nsf/WebsitePages/164020D074CA82B980257F5C00585E20?OpenDocument
---
We Stand Together against Terrorism

A Solidarity event in support of the Paris Victims was held at the St Margaret's Centre on Brantingham Road on Wednesday 2nd December to bring different communities  together  to promote the message "We Stand Together against Terrorism"
---
Police and Crime Commissioner news
Please find the link to the Police and Crime Commissioner's annual report for 2014/15.
"It outlines some of the fantastic projects that are making a real difference to the lives of people
across Greater Manchester, as well as outlining the challenges that we face as the austerity agenda continues.
As ever, I welcome any feedback you may have.
Regards,
Tony Lloyd
Mayor and Police and Crime Commissioner"
Website: www.gmpcc.org.uk
Find us on facebook
www.facebook.com/gmpcc
On Twitter: https://twitter.com/gmpcc
Postal address:
Greater Manchester Police and Crime Commissioner
GMP Openshaw Complex, Lawton Street, Openshaw, Manchester M11 2NS
Office location:
Greater Manchester Police and Crime Commissioner
GMP HQ, Central Park, Northampton Road (off Oldham Road)
Manchester M40 5BP
---
Please see the Eid -ul – Adha Pictures below taken by GMP Publication photographer in Alexandra Park.

---
Greater Manchester Mayor and Police and Crime Commissioner Tony Lloyd has launched a new website for victims and survivors of crime in Greater Manchester.
The website brings together information about victims' services and the criminal justice system under one roof. People can call a helpline, read practical advice and information, or search an online directory to find details of a local support service. All at a time that suits them and regardless of when the crime took place or whether it was reported to police.
The website can be found here: www.gmvictims.org.uk
The website officially launched on 22 October 2015. This is the first version of the site, feedback is being invited from people who have been a victim of crime and other key stakeholders to make improvements in the coming weeks and months.
Putting victims of crime at the heart of service design and delivery
Tony is responsible for commissioning services for victims and survivors of crime in Greater Manchester. This website is just the first step in a journey which designed to radically transform the way victims' services are delivered in Greater Manchester, putting victims and survivors of crime at the heart of service design and delivery.
If you would like more information, or have any feedback on the site, contact Kate Leach on 0161 793 3020 or email: info@gmvictims.org.uk.
---
GMP have developed a short survey for people who have either personally experienced hate crime, or know someone who has.
The survey covers issues around reporting hate crime and supporting people who have been affected by
it.  It can be accessed by following this link: https://www.surveymonkey.com/r/gmhatecrime
It will take about 5 minutes to complete and responses are anonymous.
We'd really appreciate it if you would pass this on to anyone you know who may be interested, as well as sharing on your social media.
---
---
Time to change
GMP pledged its commitment to challenging mental health stigma and promoting positive wellbeing among staff and officers on 12 October.  The MIND Blue Light Time to Change Pledge was signed by Force Wellbeing Lead Chief Superintendent Zoe Sheard. It is supported by an action plan which states the Force's commitment to deliver a number of activities that will support the mental welfare of those within the organisation.
Representatives for wellbeing from across the Force were invited to a launch event, where they heard testimonials from their colleagues and were shown a message of support recorded by presenter and chair of MIND, Stephen Fry.
http://www.gmp.police.uk/live/Nhoodv3.nsf/WebsitePages/D7D405B556FEC8BE80257EDD002FD9E4?OpenDocument
---
Local updates
You can get updates from you local neighbourhood officers through Twitter and Facebook. To find out yours go to:-
http://www.gmp.police.uk/socialmedia
If you have any queries about items in this Bulletin please contact Amanda Coleman, GMP Corporate Communications, on 0161 856 2239.
Ramadan in focus
A short series of videos have been produced to give people an insight into the challenges faced by colleagues observing Ramadan alongside their policing duties. The first video features PCSO Ahmed Farooqi from the South Manchester Division. Click here to watch.
Deputy Chief Constable Ian Hopkins said: "Hopefully the videos will give an insight into what observing Ramadan means for our colleagues and help to give a better understanding to those of us of a different faith or no faith. I think it is really important that we all try to understand the differences that collectively make GMP and our communities stronger."
---
Whalley Range Interfaith meeting at St Margaret's Centre, 14th May 2015
Our Whalley Range PCSO – Ahmed Farooqi – recently met with Rev. Robert Boulter from St Margaret's Church who has been involved with interfaith groups for many years.
Ahmed invited local Church Leaders, Mosque Imams, Sikh Temple Leader and Hindu Temple Priest to meet with representatives from local faith organisations, community groups and youth workers: 15 people attended this meeting from  St Margaret's and St Edmunds Church, Zakariya/Minhaj-ul-Quran Mosque/ Jamia Rasoolia Islamic Centre and Sri Guru Govind Singh Gurdwara / Gita Bhavan Hindu Temple.
See the photos below demonstrating the We Stand Together initiative: Ahmed's hope is that representatives from the Mosques, Churches and Sikh Temples  will meet once  a month to get to know each other and interact, ultimately to work with the local community groups,  moving the meeting every month from Mosque to Church to Sikh Temple and Hindu Temple.
Please see link below to the Fifth newsletter for We Stand Together which continues to reflect the hard work within the communities.
We stand together Newsletter 5
This week's newsletter has it's spotlight on the Rochdale borough We Stand Together Event which had a fantastic turn out. You can read more about it by clicking on the links below:
Manchester Evening News Article (Click Here)
Rochdale Online Article (Click Here)
We have seen a good amount of tweets and images on twitter, remember when tweeting about We Stand Together to include the hashtag (#WeStandTogether) This way we can see what's new and can include these in future newsletters.
If you have any events planned please forward the details to our team. If you want some advice on setting up an event please don't hesitate to contact the We Stand Together project team by e-mailing WeStand.Together@gmp.police.uk We can provide banners and some literature if necessary.
Regards
Jo
Greater Manchester Police
City Of Manchester Partnership Team
Level 1
Town Hall Extension Building
Lloyd Street
Manchester
M2 5DB
e-mail- ManchesterCity.PartnershipTeam@gmp.police.uk
To contact the police in an emergency call 999 or to contact Greater Manchester Police for a less urgent matter call 101.
For the latest news and information about your Neighbourhood Policing Team visit www.gmp.police.uk. You can also follow us on Twitter: www.twitter.com/gmpolice or find us on Facebook: www.facebook.com/GtrManchesterPolice , Flickr:www.flickr.com/gmpolice1 or YouTube: www.youtube.com/gmpolice
You can find your local policing team on social media at www.gmp.police.uk/socialmedia.
Download our smartphone app from the App Store or Google Play www.gmp.police.uk/apps
Fourth edition of the We Stand Together Newsletter.
We stand together Newsletter 4
The hard efforts by the community continue and we are seeing some great outcomes. Please continue to promote We Stand Together and the Hashtag for Social Media so we can use the stories in the coming newsletters.
 If you have any events planned please forward the details to our team. If you want some advice on setting up an event please don't hesitate to contact the We Stand Together project team by e-mailing WeStand.Together@gmp.police.uk We can provide banners and some literature if necessary.
Thank you
Kind Regards
#WeStandTogether
To celebrate our difference
Against hatred and intolerance
To build a safer and stronger United Kingdom
---
To contact the police in an emergency call 999 or to contact Greater Manchester Police for a less urgent matter call 101.
For the latest news and information about your Neighbourhood Policing Team visit www.gmp.police.uk. You can also follow us on Twitter: www.twitter.com/gmpolice or find us on Facebook: www.facebook.com/GtrManchesterPolice , Flickr: www.flickr.com/gmpolice1 or YouTube: www.youtube.com/gmpolice
You can find your local policing team on social media at www.gmp.police.uk/socialmedia.
Download our smartphone app from the App Store or Google Play www.gmp.police.uk/apps
---